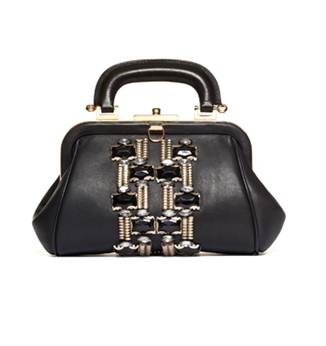 For your daily life, I say: A Marni a day keeps the boredom away. Hot on the tails of the Fall release of their Doctor bag, they have turned it up more than a few notches for Resort. Already shapely and stylish, this Doctor now gets a dose of glam with the opulent addition of oversized gems. A synthesis of plumped-up crystals, strong lines of sparkle, and industrial hardware is the ideal compliment for the bag's chunky, curvy handle and puffed gussets.
Unapologetic embellishment is just what an age-old tradition needs to feel fresh – and I couldn't be happier it's Marni to get the job done. The brand is on a serious winning streak, and this structured sparkler transcends the day, carrying you right on into the night for a look that says, bigger is better.
To be available at Marni.