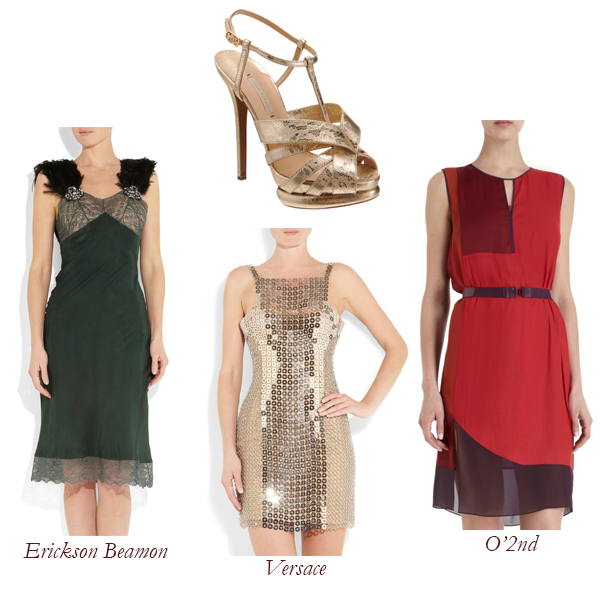 This is your one shoe fits all occasions shoe! With non-stop celebrating coming up in December, you might be thinking of getting a specific pair of shoes for each outfit you have planned, but since budgets are tight around the holidays, why not just get one shoe to take you through the whole season? Light gold is the perfect festive hue, and with the lace-infused pattern on these Kirkwoods (at Barneys New York for $995), you'll have an extra wink of femininity. Then when the holiday season is over, these strappy sandals will come in handy for nights at the theater, weddings, or even just dressing up novelty jeans! Here are ideas that'll have you rocking around the Christmas tree:
Christmas party: You cannot get more festive than a bit of feather and lace. Whether it's cocktails or formal, this lingerie look with flair will shock and awe. Erickson Beamon Feather-Trimmed Silk Dress. At Net-a-Porter
for $3,135.
New Year's Eve: Break the bank for Versace's fierce chain-mail mini (on Net-a-Porter
for $26,725). I mean if you can't splurge to ring in the New Year, when can you??
Girls Night Out: Throw on O'2nd's silk colorblock dress (at Barneys New York for $350) for drinks with your best girls. Red and gold is a classic holiday combo that will have you jingling all the way out to the dance floor!
If they still have your size, Net-a-Porter
has a similar pair of glittery Kirkwoods on sale for $630!