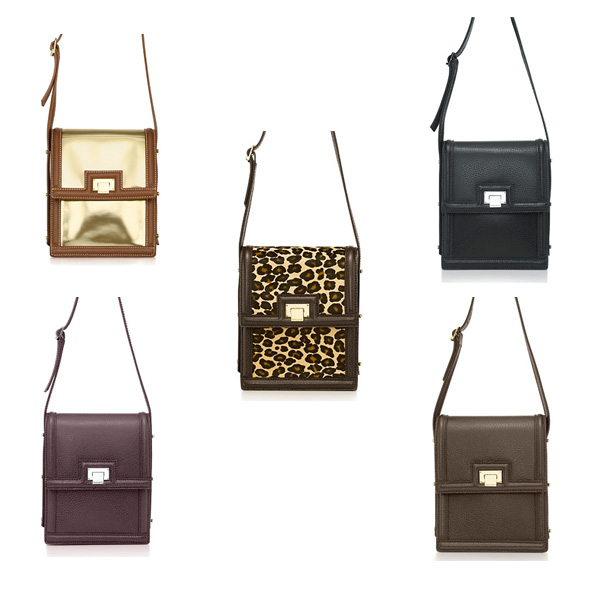 On Monday I went to an intimate dinner with the genius duo behind Tiffany's bags, Richard Lambertson and John Truex, two of the most talented people in the industry – and just as sweet. Equally nice: the Mia, a modern camera bag in a vast array of colors. I love the metallic gold against cognac leather, especially with contrast stitching, the other options may not have the same zing but they are not as stiff.
Either way, it's the ultimate travel bag, designed to fit all your essentials (not quite a SLR camera, but definitely your wallet, phone and digital camera). It goes crossbody – a must for long days of walking – with an adjustable buckle on the strap, and also adjustable via studs that attach on the sides. This is the new love of my closet!
John Truex suggested you can even cut the strap, punch new holes into the buckle portion, and convert it into a cute short bag that hangs at the side. ("Cut?!" I exclaimed. I would be too scared to cut anything myself, especially of this quality!) I'd rather just get a second bag! Yes, the gold-and-cognac combo also comes in a most dreamy shoulder style, the Esme ($995, pictured below), which is quintessential Lambertson Truex and totally Richard circa 1990s Gucci with that leather tab closure and neutral leather with gold stitching.
The Mia available in Metallic Gold and Cognac, Plum,  Leopard-print Camel, Onyx, and Espresso at Tiffany & Co. for $795-$895.