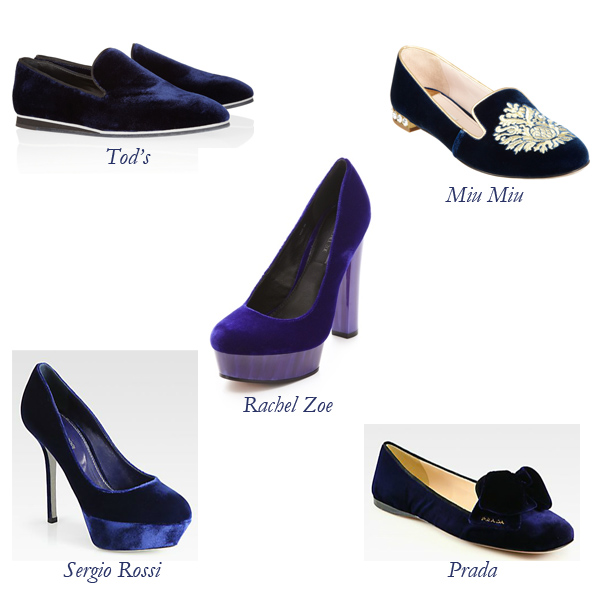 There's something mysteriously intoxicating about blue velvet. The rich fabric has inspired songs, movies, shops – you name it! It feels like something from a bygone era (the '50s!). And since velvet is haute holiday wear, I set out to find the best blue velvet shoes. They're lush, warm, and just what you need to stay cozy on cold nights. The dark hued jewel tone is found most stylishly on slippers, but put it on pumps and you've got true romance!
Net-a-PorterTod's Velvet Loafers
: Loafers are casual chic, but add textured velvet and you challenge everyone to up their slip-on game!
On Net-a-Porter for $495.
Sergio Rossi Uptown Velvet Platform Pumps: Gorgeous Italian velvet coats these platform pumps for a holiday shoe everyone wants to find wrapped under their trees.
Exclusively at Saks Fifth Avenue for $650.
Prada Velvet Smoking Slippers with Bow: Sure you could wear these adorable midnight blue Pradas around the house, but why deprive the rest of the world a good show?
At Saks Fifth Avenue for $530.
Rachel Zoe Leila Velvet Pumps
: Exercising control, Rachel doesn't use velvet on the heel or platform. This mix and a purple tinge lend some fun to these pumps!
On ShopBop for $355.
Miu Miu Velvet Embroidered Slip-On: Trimmed and embroidered in gold, these luxe slippers were made for a queen. Some of the Crown Jewels even decorate the heel!
At Barney New York for $650.