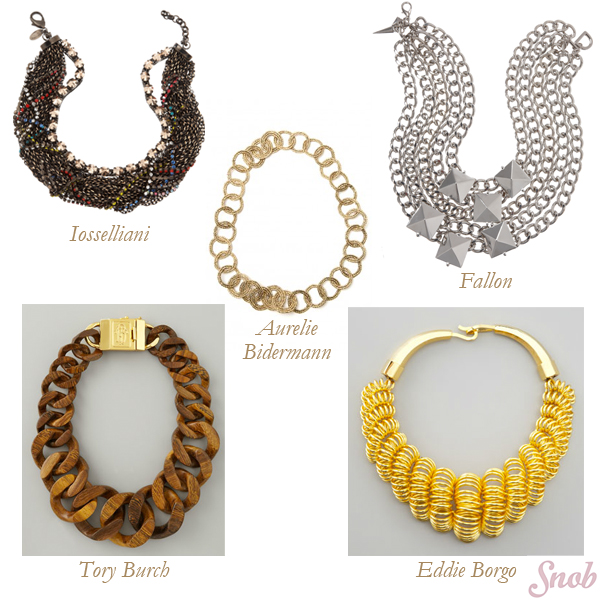 I wish there was a trend for chunky asses, but while we wait for that to come around (and don't hold your breath), chunky chain necklaces can be an amusing distraction. The phrase "the bigger, the better" certainly applies here! Heavy knit sweaters are comfy winter wear, but don't let your accessories get lost in the cables. Here are chains at every price point and level of embellishment:
Tory Burch Graduated Wooden Chain Necklace: Go big or go home! Make sure to wear your hair up, so that onlookers get a sight of the huge gold clasp on this wooden chain.
At Bergdorf Goodman for $225.
Aurelie Bidermann Long Multi-Link Necklace: Not just any old link necklace, this Aurelie Beidermann is constructed by gold circles designed to look like rope. Best for intimate galas – you don't want anyone to miss that it's really gold!
At Kirna Zabete for $1,475.
Eddie Borgo Coil Hook-Closure Necklace: Normally reserved for mechanics, brass coil unconventionally becomes the gold-plated hero of this necklace. I love that the design appears looser towards the front for a slinky-like look.
At Bergdorf Goodman for $725.
Iosselliani Crystal Chunky Twisted Chain Necklace: All of the multicolored crystal rhinestones decorating this piece make me think New Year's, but I don't think I can wait that long to try it out!
At Barneys New York for $855.
Fallon Silver Six-Pyramid Chunky Necklace: Basic silver chain draping goes rock star with large pyramid studs (double the chunk!).
At Barneys New York for $225.