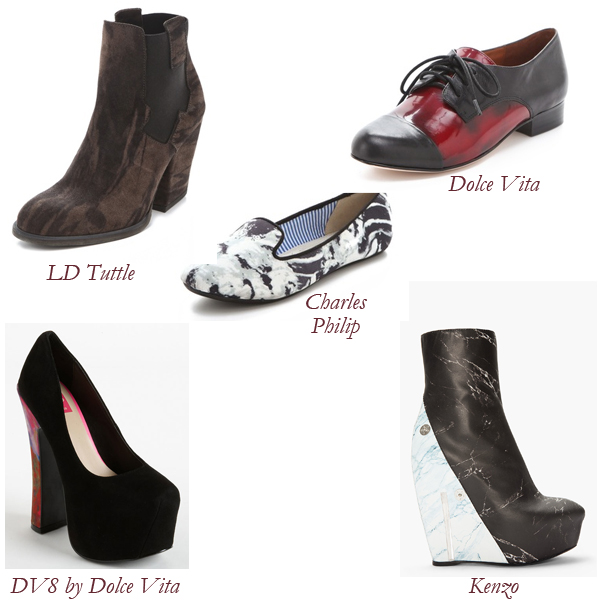 Real marble may be cold and hard, but these shoes will warm up your style! Like the great sculptures of the past, these pieces of art are constructed in marble (well, not the actual stuff – that would make walking pretty challenging). The unique effect can take a simple look to the next level, while winning the admiring glances of other art patrons. Crystallize your outfit with this fabulous footwear.
1. Kenzo Black Marbled Perspex Stripe Wedge Boot: Did they source the materials for this shoe from Italian cathedrals?? The realistic effect is uncanny, and the splicing of the black and white creates a silhouette that defies logic.
On Ssense for $1,800.
2. Charles Philip Eula Marble Print Flats: The print on these smoking slippers is subtle, especially paired with the black trim. Perfect for if you want to step into the trend slowly!
On ShopBop for $108.50.
3. LD Tuttle The Mass Marble Booties: Talk about a Marble Arch! The subtle effect on these chunky suede booties is best when seen up close.
On ShopBop for $590.
4. Dolce Vita Brayden Colorblock Oxfords: On sale! A vintage-looking (love the old-timey toe-cap!) oxford modernized with red and black two-tone leather.
On ShopBop for $111.30.
5. DV8 By Dolce Vita "Vixen" Pump: You may not see the marble here at first, but one look at the heels, and bam! Like climbing a rainbow.
At Nordstrom for $148.95.