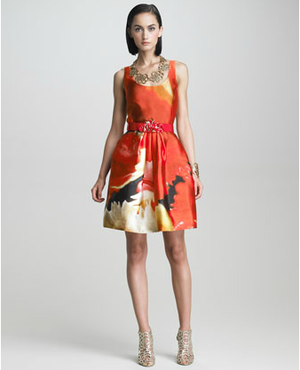 If you're wary about wearing prints, there's no better time than the holiday season to get in the spirit. Printed dresses are lively and more importantly, decorative! They're like having bells on (only without the annoying ringing) – your loud print will be loud in a good way. As long as the fabric is light, the style looks youthful and invigorating (thick fabrics without movement are what make print too imposing).
Start strong with the drama of Oscar de la Renta (at Bergdorf Goodman for $2,390)! A colorful ladylike A-line will keep the winter blues at bay, and prove that even on the snowiest of days, tulips can bloom.
Just a little graphic makes this angelic white
Tibi sheath (on Net-a-Porter for $425) festively fun! Under the sea-style coral grows on your shoulders, creating an interesting and modern visual.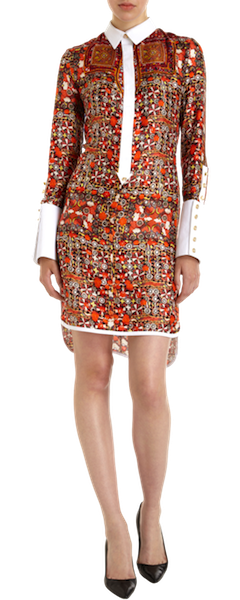 For me, the ultra-long cuffs are what make this Altuzarra shirt dress (at Barneys New York for $1,345), not to mention the jewel buttons! Belt it to create compelling definition.
Who wants to be off the grid when this print is so on trend? This Bottega Veneta dress (at Barneys New York for $1,850) is cut perfectly at the knee, and the back seams offer an interesting structural pop out.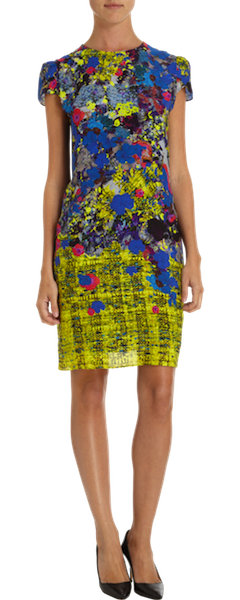 Bursting at the seams with fluorescent color, this part Jackson Pollock, part neon floral Erdem (at Barneys New York for $1,915) finishes its silk canvas with bright yellow tweed!