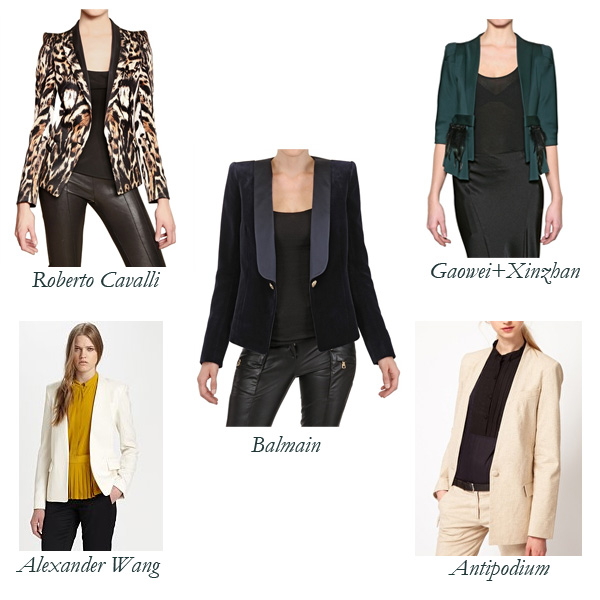 A good jacket is an essential for any wardrobe. It's a classic go-to look that is effortless (just throw it over anything!) yet put together, providing structure and a little formality to whatever you're wearing. When it comes to smoking jackets, you don't want to look boring in basic black, but you also don't want to look like you live at the Playboy Mansion. From simple to fanciful feathers, wild to literally smoking, these styles make the cut.
1. Alexander Wang Smoking Blazer: Smoking jackets are known for their rich embellishments, but Wang keeps it simple. Classic winter white, this wool blazer is the perfect last-minute topper for any outfit.
At Saks Fifth Avenue for $560.
2. Gaowei+Xinzhan Neoprene with Ostrich Feather Jacket
: If you want to distinguish yourself from the boys' club vibe of the smoking jacket, just add some jewel-tone feathers!
On Luisa Via Roma for $878.
3. Roberto Cavalli Printed Silk Twill
: Lovely in leopard, this blazers' peaked lapels are what make it really take it to the wild side.
At Luisa Via Roma for $2,216.
4. Balmain Silk Satin Lapel Cotton Velvet Jacket
: I've never seen a Balmain jacket I didn't love! This fiery red velvet is the epitome of the lush luxury of the smoking jacket, only instead of a loose fit, it's perfectly tailored.
On Luisa Via Roma for $2,721.
5. Antipodium Smoking Jacket: Throw on a Panama hat and head down to the tropics! This extra long cotton linen number is perfect for a warm, breezy day.
On Asos for $395.78.