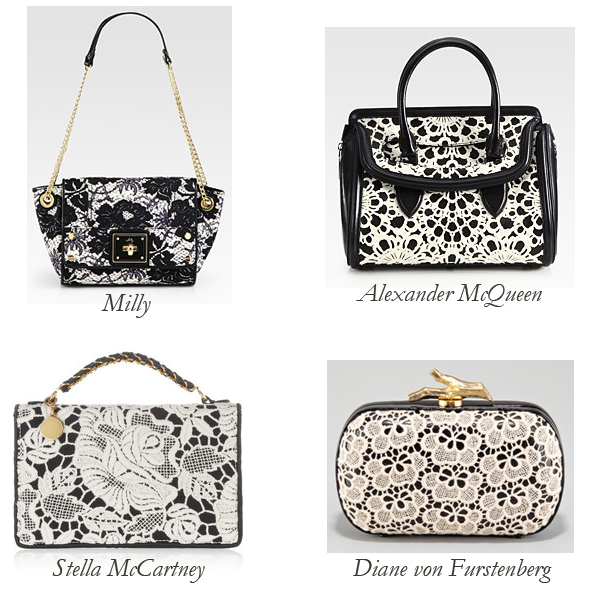 Here's the recipe for a refreshing take on the black-and-white combo: start with a base of black leather or satin; then add an unapologetic layer of snow-white lace, whether it's eyelet or laser-cut calf-hair. I love the throwback vibe of pure lace, speaking of garden parties, ladylike gloves, and mint juleps. With a deep, dark background, it makes for a striking contrast that's on-trend and on-(needle)point.
1. Milly Isabella Lace Printed Leather Shoulder Bag: The flared edges and sharp architecture make for the shape of the moment, but sweet, graphic lace keeps it classic.
At Saks Fifth Avenue for $269.50 (from $385).
2. Alexander McQueen Lace Haircalf & Leather Top Handle Bag: The Heroine looks brand, spanking new with white calf-hair laser-cut into lacy dreaminess.
At Saks Fifth Avenue for $3,450.
3. Stella McCartney Grace Lace and Satin Clutch
: Leave it to Stella to assure us that satin and lace need not look sugary. Thank the rectangular silhouette and hardware-heavy strap, great for sliding your hand through with casual ease.
On Net-a-Porter for $970.
4. Diane von Furstenberg Lytton Lace Clutch Bag: As precious or punk as you want it to be, DVF scores a win by staying true to her quintessential clutch style and overlaying it with something fresh.
At Neiman Marcus for $217 (from $325).
This post is also available in: Chinese (Simplified) Chinese (Traditional)