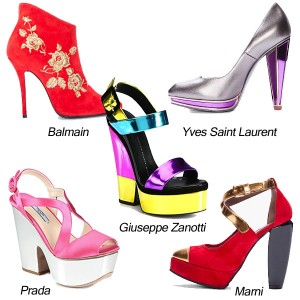 If you don't think metallics make a big enough statement, ShoeSnob hears you! Whether you are looking for holiday rock, rock star, starship, or Barbie girl, here are the best metallic mashups.
WWW reports on what celebs wore at the CFDA/Vogue Fashion Fund awards
Color me confused. Chris Brown signed to Wilhelmina
Spice Up Your Wardrobe with Victoria Beckham. At CoutureSnob.
Shopbop will now sell menswear! This is exciting!
The Baby Cargo Georgi diaper bag is made specifically to fit onto strollers which makes for a much nicer ride. Slide On and Ride On at TotSnob.
Nina Garcia named creative director at Marie Claire
So many great things are up for auction (including Anna herself) for CFDA + Vogue's Fashion for Sandy Relief.
Forget the subtlety of matte gold – it's all about polish and shine right now. JewelSnob shows you her favorite High Polish Jewels.
Disney gives fashion a whirl for their collaboration with Barneys. Bryanboy and Nicolas are probably my two favorites.
Turns out Chanel will in fact sell the other it bag of the season. Second of course to that Lego style clutch that everyone including me is pining for.
Cate Blanchett x Belstaff: Queen of Biker Chic At BagSnob.