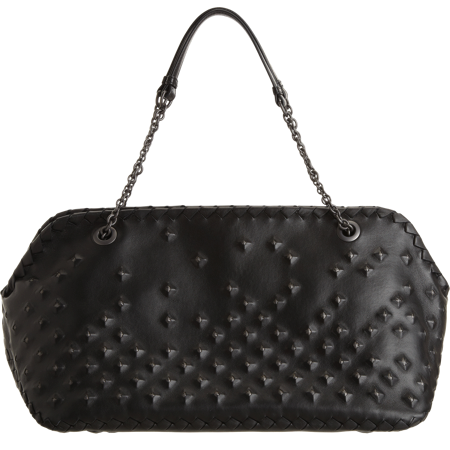 Silly me for thinking I could make it to the New Year without pining away for yet another Bottega Veneta bag. If I had a nickel for every time I've said, "They've done it again"…I would have enough to buy this bag! Well, almost.
This shoulder bag walks that fine line between true treasure and everyday staple you can't help but carry over and over. With detailing like this, I suggest treating it like it's the former. Such a sleek, east-west shape sets it apart from your other Bottegas and the partial chain-straps don't hurt either. But what makes this a real prize: it's the most studly of them all. It has been slyly embedded with studs for a weave effect that's deceptively less intrecciato and more hardware. A delicately understated feast for the eyes, the more you look at it, the more the bag snaps, crackles, and pops with dimension. At Barneys New York for $2,980.
Pair with: Spring comes early with Tucker's silk-georgette jumpsuit. A blast of print and color is irresistible when it's this optimistic. On Net-a-Porter
for $430.
This post is also available in: Chinese (Simplified) Chinese (Traditional)