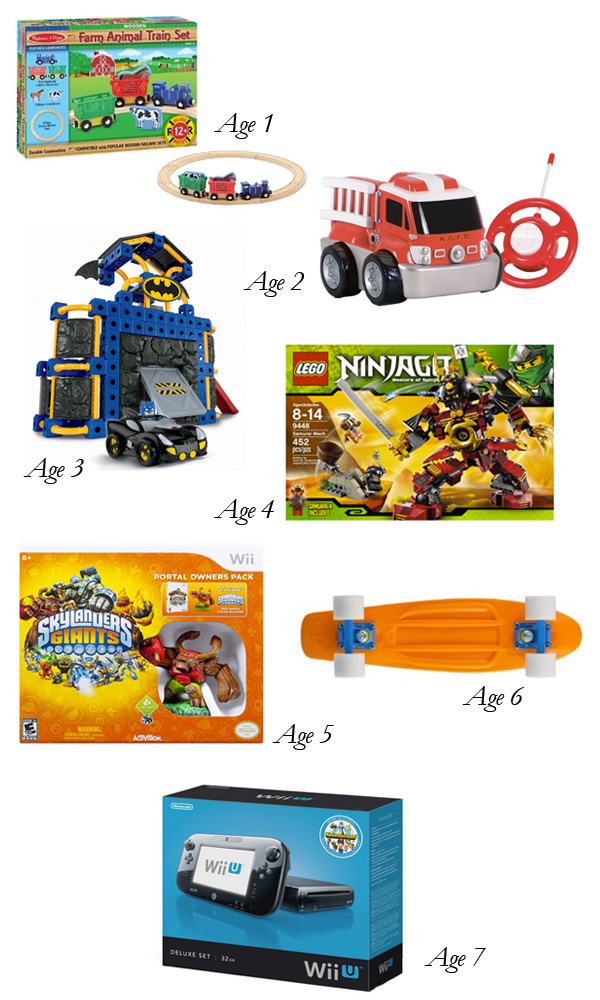 Age 1: Train
Even the tiniest of tots love trains – anything on wheels, really (simply put, girls like things with faces and boys like things that roll). This Melissa & Doug animal train set keeps everything nice and tidy on one looped track, but I'm sure your little one will take on the color-outside-of-the-lines mentality and use your expensive coffee table as a track instead. On Amazon for $14.93.
Age 2: Remote Control Car
You'd be surprised what a 2-year-old can drive – although, it will probably make you start stressing about the day they turn 16! This Kid Galaxy truck is perfect for putting out fires (as long as he realizes that they should be fake fires). On Amazon for $21.33.
Age 3: Super Heroes – The Batcave
What little boy doesn't love super heroes?? Batman has stood the test of time well, so get him a little Fisher-Price Batcave of his own and let the crime fighting begin! On Amazon for $34.24.
Age 4: Legos Nijago
There are grown men who collect Legos, so this is clearly an obsession with serious staying power. Although they are a true classic, the Nijago series are on the top of the popularity chart. On Amazon for $61.99.
Age 5: Skylanders
This is when they start getting into video games. They love Lego Wii games, but Skylander is the big thing right now (plus, it comes with a little toy!). On Amazon for $74.99.
Age 6: Penny Skateboard
They've probably already learned to ride a bike by now, and boys seem to like skateboards better anyway (is it because they're more dangerous?). As long as you keep an eye on him, this'll be great for improving his coordination and of course, just plain fun. On Amazon for $89.98.
Age 7: Nintendo Wii U
It all depends how generous you are. If they already have the console getting a game is much more budget-friendly – Rhyme Heaven Fever is a highly-rated one. On Amazon for $406.99.
Also, read Girls Gift Guide for Every Age.