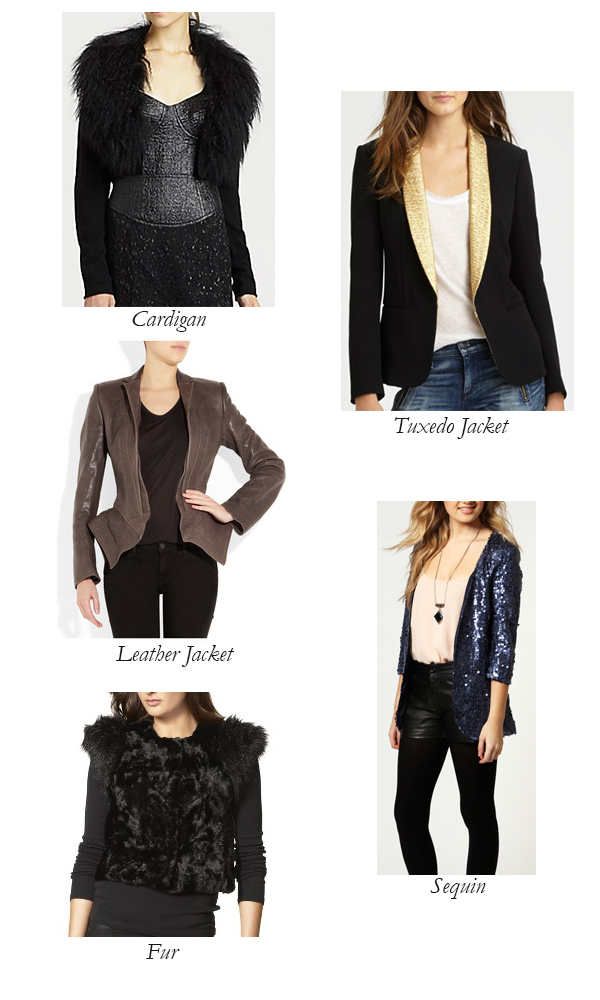 Odds are you have a favorite LBD hanging in your closet already. It flatters you perfectly and you want to wear it everywhere during the holidays, but you don't want to look like it's the only dress you own! Not a problem – I've found some great pieces (Frugal Snob options included!) to complement an LBD. Just try to keep them cropped and fitted so they look like part of the outfit and not outerwear!
Cardigan
Nanette Lepore Cannon Fur-Trimmed Cardigan: There's never enough fur! While I can't seem to find occasion to wear all-over fur, a cardigan with trim gets you the look without the heat (or the price tag!). Any embellished cropped cardigan will dress up an outfit well, though! At Saks Fifth Avenue for $378.
Tuxedo Jacket
Rag & Bone Sliver Tuxedo Jacket: Love, love, love this jacket! You'll get way more wear out of it that just with your LBD – I'm thinking leather pants. At Rag & Bone for $595.
Leather Jacket
Haider Ackerman Leather Peplum Jacket: A leather jacket gives any dress a sexy downtown vibe, and with this peplem, your LBD could be as basic as can be and would still have great structure topped with this. On Net-a-Porter for $3,178.
Sequin
Libby Edge to Edge All Over Sequin Jacket: How could I put together this list around the holidays without including sequins?? This light jacket is perfect for keeping you warm enough outside while still cool enough next to a blazing fireplace. On boohoo.com for $50.
Fur
Skaist-Taylor Vest: This fur vest is so flattering – definitely one of the best Neiman Marcus Target pieces! The cap sleeves shoot out to give you a fierce silhouette. At Target for $79.99.