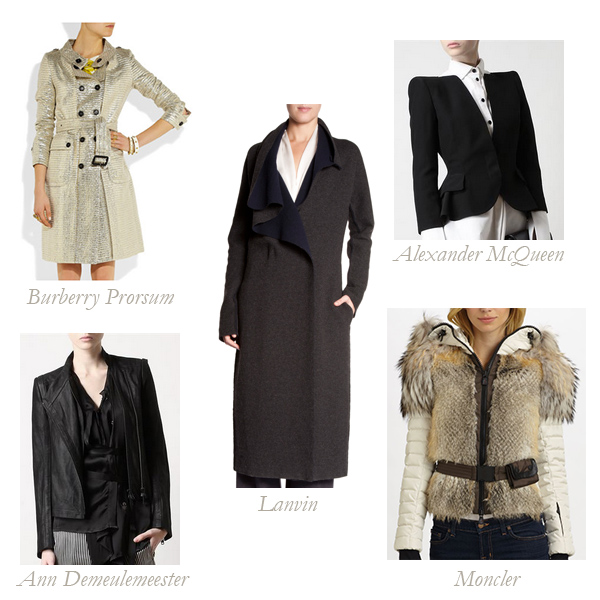 If you're a one coat kind of girl, stick to the essential coat but for a complete wardrobe, you'll need one of each of these. I'm obligated to show you over the top options but stick to these categories and you will find that you are set up for any event or weather that comes your way.Even if you go basic and classic, try for an unexpected detail – just because they are essential does not mean they need to be boring!
The Trench
Burberry Prorsum Metallic Jacquard Trench Coat:
Of course the trench is classic Burberry Prorsum, but adding sparkles gives it a much needed update! This is perfect for those rainy days when you have to go to a formal event, but even when it's clear out, the shiny trench will make your look instantly hotter. On Net-a-Porter for $2,595.
The Suit
Alexander McQueen Tailored Peplum Jacket: Don't let the word "suit" ward you off – this peplum jacket was made for an exec at a fashionable corporation, not a stuffy bank. There's nothing worse than seeing every woman at your office in the same plain jane jacket. Peplum gives you a standout shape to set you apart from the rest. At Browns for $2,295.82.
The Leather
Ann Demeulemeester Distressed Leather Jacket: Leather jackets look best when they're cropped and fitted, so that they can go over jeans and dresses (anything really!) without taking away from your outfit or curves. Unless you keep a Harley parked in your garage, don't do the long leather jacket (the exception being if it's a trench, but that's a whole other story!). At Browns for $2,843.59.
The Parka
Moncler Wool/Mohair/Fur Jacket: The down jacket is a winter essential – it's the most functional outerwear. Fur, however, is not on my list. But the combination on this Moncler is so chic that it had to be mentioned! The brand's coats always have a great fit and the quality is beyond. And with a blend of raccoon, fox, and down, bundling up has never been sexier. At Saks Fifth Avenue for $3,990.
The Coat
Lanvin Ruffle Collar Snap Coat: Casual enough to wear to the office, but formal enough for a gala (it is Lanvin, after all)! This is a timeless design, but the subtle ruffle and snap closure give it a fresh, fun attitude. Plus, the draping adds a welcome dash of femininity to an otherwise loose, masculine coat. At Barneys New York for $1,690.