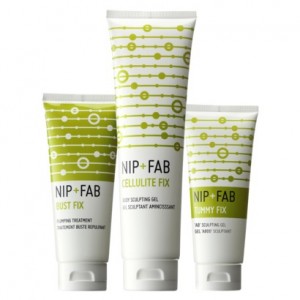 We all know that nothing worth having comes easy and for most of us that includes a svelte physique. I'm going to Miami for Art Basel tomorrow so bikini bods have been on my mind for awhile. I've been using some products from Nip + Fab to prep me along with diet and exercise (though my diet – while rich in fruits and veggies – has also been rich in carbs and sugar lately…meh!!!). Check-out three awesome buys below!
Bust Fix ($15.95): This is a light – though a little bit sticky – serum that purports to visibly plump your bust. I can't say whether or not my boobs are any bigger (honestly I'm fine with how they are anyway…), but they are certainly firmer after applying this cream. No this won't reverse a saggy bust, but if you're on the small chested side this will definitely instantly firm (albeit the effect is not that long-lasting).
Tummy Fix ($18.95): What's awesome about this brand is that even though it's inexpensive all of their products are packed with clinically backed active ingredients. This is an awesome product that goes on smooth and is formulated with ingredients like bitter orange and lecithin to soften, while hydrating and promoting elasticity.
Cellulite Fix ($17.95) – This gel absorbs quickly so you can apply it post shower in the morning even if you're crammed for time. Among other things, it has caffeine in it which has been proven to effectively improve skin texture. While this won rid you of cellulite it does make my upper leg/tights instantly firmer. I also love that there isn't much of a scent to any of these products so they leave you feeling hydrated without interfering with your perfume or any other body product you might be putting on (especially important if you're the kind of person who uses about 10 different creams on their body!).
If you're look to shell out a little more, Nip + Fab is actually Rodial's diffusion range. The major difference between the two brands is the number of actives. So if you're older or have more serious skin concerns check-out Rodial as they have the equivalent to all of the aforementioned products in more potent iterations on their website.