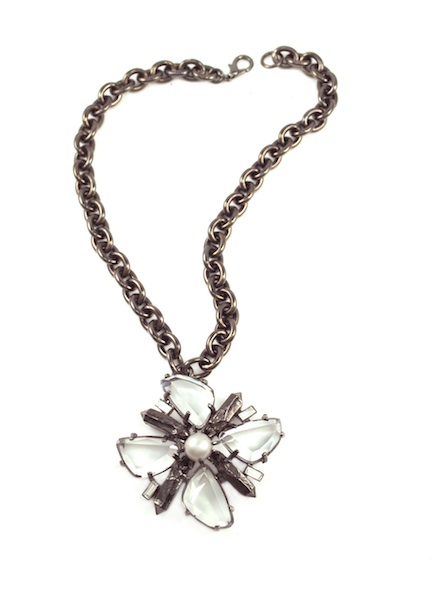 What better time than the sparkly holiday season to give away this glamorous Gerard Yosca necklace?? A true trendsetter (his butterfly pin is what sparked the hair clip frenzy of the '90s), Gerard is a designer whose talent has been recognized by his peers (he sat on the CFDA board for 12 years) and celebs alike. Bold statement gems are his thing, but like all great artists, he never gets too comfortable in any one design. Enough of my thoughts, though – read his below in our exclusive interview! To enter the giveaway, tweet "Make me a winner @JewelSnob and @GerardYosca #HappyHolidayGems!" The winner will be selected via a random computerized drawing. Good luck to everyone entering, and thank you to Gerard for his gorgeous giveaway and thoughtful interview! Shop his collection on GerardYosca.com.
What got you started in jewel design?
I studied graphic design and advertising in college, and got a job at a fantastic agency right out of the gate. But the corporate world and I were not meant for each other. It was not creative enough – I was way too wacky! So, I decided to move into fashion and never left. Short of starting college all over again to learn how to drape and draw patterns, I had to come up with a way to pay rent, fast. I figured that I could find a way to make the belt I was sketching. As a kid I was artsy and crafty, and I'm very determined. So I taught myself how to make jewelry, and almost 30 years later, I think I'm getting the hang of it.
Where do you get inspiration?
I'm inspired from two directions at once. Things that are tangible: art, furniture, maybe even a whole room; how the parts make up something beautiful; nature. If you look around, there is plenty of inspiration. Color inspires me. Sometimes a color we don't like suddenly becomes the favorite. But there are also the things we feel, rather than know, that indicate a shift in our design sense. Do we want to stay "in" rather than socialize? What kind of music are we listening to? Is the world in turmoil or relatively peaceful? Fashion design reflects who and where we are, and the things we choose to wear demonstrate that.
Do you design your pieces with clothes in mind or is it all about the jewels?
It's of course always all about the jewels!! But I do design with the shape of clothing in mind. As fashion changes, the opportunity for how to wear jewelry shifts. If the waistline drops, I like a longer necklace or some long layered pieces. Shorter sleeves make bracelets an obvious star.
Of all the pieces you've created, which is your favorite?
Favorite piece? Impossible! There are 30 years of design to choose from. But a recent favorite I can oblige: my inspiration last fall was the painter Howard Hodgkin. His work is glorious; dynamic color that careens off the canvas and into the frame; boundaries are blurred. I have no idea what that would mean when it came time to design actual jewelry, but as I attempted to explain what I was feeling to some staff, I shoved some stones on my work table together – adjusted and added, all the while talking. And there it was: exactly right.
You've crafted a gorgeous crystal bloom brooch. What's a unique way to wear a brooch that Jewel Snobs can try out?
I love the brooch as a utilitarian object – to use it to pin things together. I think an oversized cardigan pinned closed with a brooch looks fabulous. It's a nice way to add some shape to the sweater, and a little carelessness is a look I like. Here's a tip: you might want to first secure it with a safety pin and then use your brooch decoratively on top, so as not to put too much stress on your jewelry.
What's the biggest jewel trend of the holiday season?
The biggest jewelry trend of the holiday is the big jewelry button earring. It's neat, polished, and glam! This is just the beginning of this trend.
How can you dress to the nines when you're going out to a party and it's freezing outside?
Honestly, the chicest way to stay warm was designed 30 years ago: Norma Komali's original sleeping bag coat. Get it in black, a little oversized. It's dead simple, cozy enough to wear very little under it, and it creates a perfect backdrop when you open it up.