If you're not watching Homeland, odds are someone has already chastised you for it, and I'll second them! Honestly, once you start, you can't stop. Just ask the president – it's his favorite show. Claire Danes has already won tons of awards for playing bipolar CIA officer Carrie Mathison on the Showtime thriller. Intrigued yet? Her complicated character is definitely a difficult person to shop for, but I'm a bit of a sleuth myself. I picked all black and neutral bags because she is, after all, in the CIA (at least most of the time). Carrie can't exactly walk around the streets of Iraq toting neon bags. She likes to lay low and carry only her basics. But like all great agents (that is if movies and TV are any indication), she's been relegated to the office after some unauthorized snooping (is Nicholas Brody really planning a terrorist attack on the US??), so Carrie needs a nice mix of everyday pieces with her super spy carryalls. Here are all of the essentials for getting a mission accomplished:
Carrie's keeping a lot of secrets, and she has to be able to lock them away somewhere. Bottega Veneta's intrecciato leather tote is the perfect hideaway for her secret files (and secret clozapine pills!).
As an international agent, she needs to be able to travel light. No rolling suitcases here – Jas M.B.'s black leather backpack is more than spacious enough for her minimalist packing.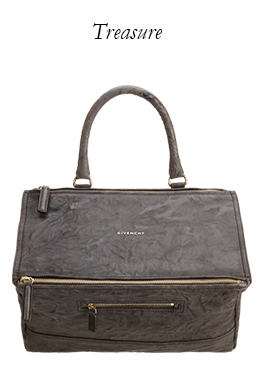 Givenchy's Pandora messenger is perfect for work – it can hold papers (the bag expands not unlike a file cabinet) and tech goodies of all kinds.
The only trends Carrie follows are terrorist-related, so I found her a nice, simple perforated Chloe crossbody. It's see-through, but it's not like officers keep their guns in their bags anyway.
She doesn't strike me as someone who cares about spending a lot of money on fashion, so this woven Bop Basics clutch is true to character and just big enough for her must-haves.