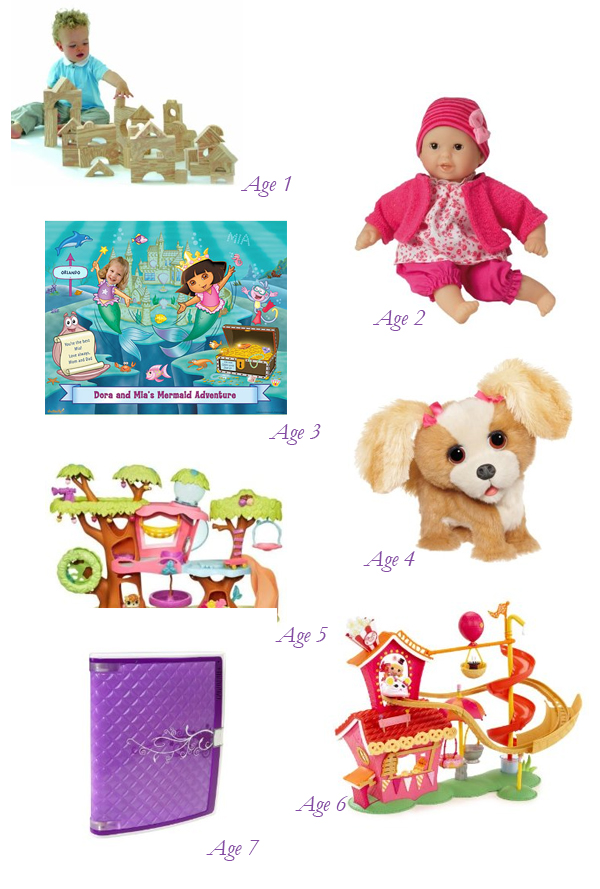 Age 1: Blocks
My pediatrician specifically instructed me to buy blocks for my girls to help develop their motor skills and minds. Real wood blocks are the best, but these are lighter – easier for tiny little hands to handle (plus, if you have a thrower, these will do less damage). I've had this Edushape set of 30 for nearly 8 years, and they've held up beautifully. At Amazon for $23.60.
Age 2: Dolls
Tots are pretty easy to please at this age, in fact they'll probably play with an empty box before they even look at their toys. But one toy that will grab their attention is a doll or stuffed animal. I like Corolle dolls because they're good quality (and they don't have that creepy doll face some others do). At Amazon for $34.99.
Age 3: Dora the Explorer
Dora is a nice way to hold off the inevitable Princess/Fairies/Mermaids obsession that's to come, and these books are great keepsakes – insert your kiddies' pictures, names, and other info into the story, and they'll have their own mini adventure that will delight and really, really confuse them!! At Shutterfly for $19.99 (for an 11×14) or $29.99 (for a 16×20).
Age 4: Fur Real Friends Faux Pets
This is the age when your tot wants a pet, but will actually be quite content if you just get her a toy one. They play better with the inanimate variety anyway (and it's a lot safer!). At Amazon for $29.99.
Age 5: Littlest Pet Shop
Something about these tint pets make tots go nuts. It's like a dollhouse for pets and they can come up with a whole world of imagination for things they can do with them. At Amazon for $37.81.
Age 6: Lalaoopsy
These cute characters remind me of baby cartoon versions of Gwen Stefani – I like it! This is on the younger side for 6-year-olds, but they still love it and why try to force them to grow up prematurely? At Amazon for $34.99.
Age 7: Mattel Password Journal
Once they learn to read and more importantly, to write, they become completely entranced – in a good way! The best gifts are the ones that will teach tots something. I've gotten these journals as birthday gifts for my 7-year-old's friends, and they squeal with delight every time! It's my ace in the hole. At Amazon for $20.99.