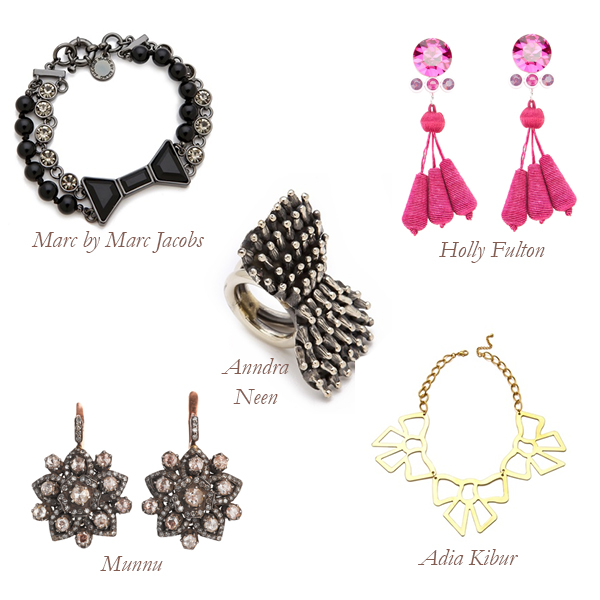 There's a right way and a wrong way to do holiday kitsch. Dangling little metallic wrapped presents from your ears is the wrong way. Ironic dressing can be fun (exhibit A: holiday sweaters!), but you don't want to look like you're coming from a Christmas party in the '90s. Tongue-in-chic jewels are the highway to cute holiday cheer, so find your ho-ho-ho hearty sense of humor and deck yourself in these holiday decorations:
Marc by Marc Jacobs ID Bow Bracelet: What's more fun than wrapping yourself in a bow? Wrapping yourself in a crystal bow! On Shopbop for $118.
Holly Fulton Tassel Drop Earring: The prime time to wear tassels is rare, so take advantage with these whimsical hot pink clip-ons! On Farfetch for $247.59.
Munnu Diamond Snowflake Drop Earrings: These may not be very kitschy, but snowflakes are my favorite holiday jewels. Iced out in diamonds – naturally! At Barneys New York for $10,5000.
Anndra Neen Bow Ring: When it comes to fun jewels, the bigger the better! Even in just plain metal, the sheer size of this ring will draw attention. On ShopBop for $87.50.
Adia Kibur Bow Station Necklace: This huge bow necklace is Frugal Snob fun! Pop it over an LRD (little red dress!) and you're seasonally chic. On ShopBop for $27.