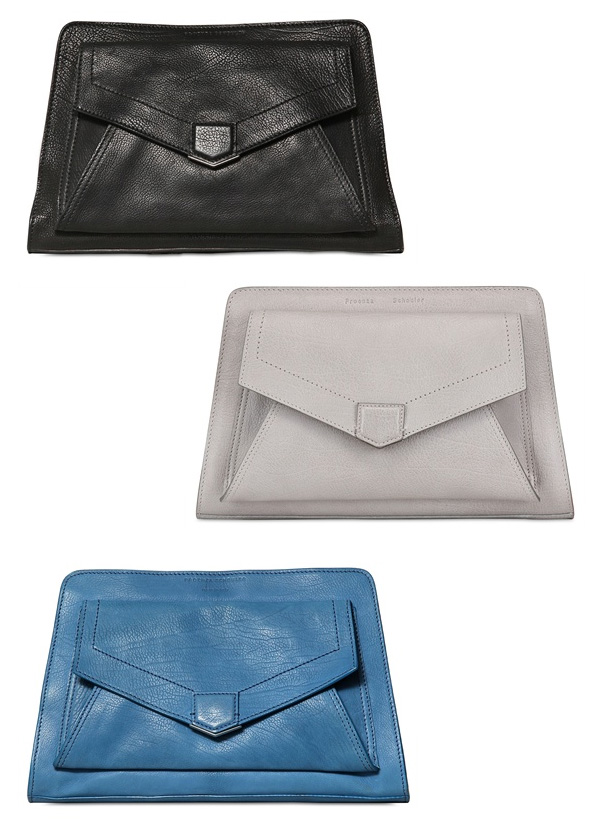 I was impressed with the powerful presence of the Large Leather PS13, but it's the clutch version of Proenza Schouler's newest number that I love. You get that same funky-meets-all grown-up look and feel, with none of the (inevitably) cumbersome bulk.
Some clutches are for show and some are for actually getting lots of wear and use. You know this one falls into the über-functional category. With a roomy front envelope and a second zipper pocket in the back, it's packed with places to stow your precious cargo. It would also be great for tossing in your larger tote as an organizing pouch, though the high price prevents this from being treated like a mere extra bag (I'm just thinking if it multi-tasks, it's easier to justify the purchase!). But does it really need to be justified? At 12" wide, it's the perfect size: fits everything you need without entering the oversized realm. Besides, it's great to own a casual go-to clutch, day use included. Nothing says you're a woman who's got it together like one who can work a smart daytime clutch. On Luisa via Roma
for $1,326.
Pair with: Keep it carefree with Isabel Marant's Berry boot, the Western inspired hit from her Fall collection that's equally cool during the day or night. At Barneys New York for $1,155.
This post is also available in: Chinese (Simplified) Chinese (Traditional)