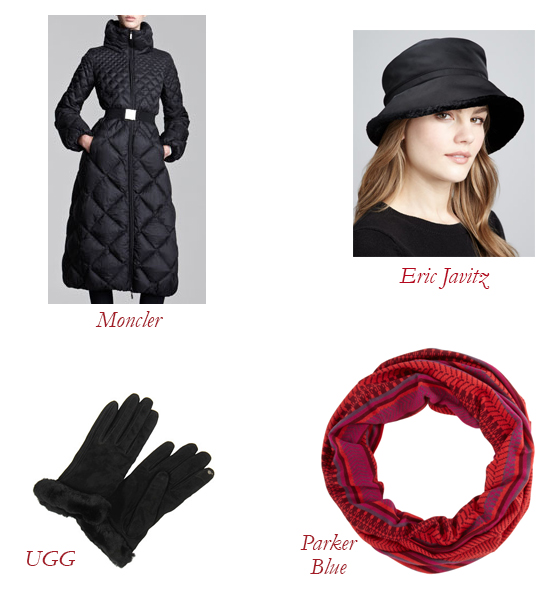 I used to be a pretty avid skier. I wasn't too shabby on the slopes if I do say so myself, but thanks to the condition of my back, I've been rendered lodge-bound. That doesn't mean I'll be dressing down, though! While everyone's out skiing, I'll be inside sipping spiked hot chocolate and lounging comfortably in my ski lodge chic look. Doesn't sound so bad after all, huh?
Moncler Long Diamond-Quilted Belted Puffer Coat: A long down coat can be a lot like a sleeping bag, but Moncler keeps it fitted and looking sharp (and in spite of appearances, this won't weigh you down!). At Neiman Marcus for $1,745.
DKNY Long Faux Fur-Trim Puffer Coat: Faux fur is a Frugal Snob's best friend. This may not have Moncler's all-around belt to cinch you in, but there's a tab in the back to give you a bit of a waist. At Neiman Marcus for $195.
Eric Javits Faux-Fur-Lined Hat: Let's be reasonable – if you're wearing an all-over fur hat out in the snow, it's going to get wet. Keep it for the city and throw a faux one on for the hills. At Neiman Marcus for $275.
UGG Classic Suede Smart Glove: When you curl up near the fire with your iPad, you'll be needing these smart gloves – they conduct electricity, saving you from cutting the fingers off your gloves or worse, taking them off altogether and suffering frostbite. On Zappos for $115.
Parker Blue Navajo Stripe Eternity Scarf: Brighten your ski bunny gear with a vibrant native design, always apropos for ski lodges. And of course, it's functional – eternity scarves are the best at keeping everything under wraps in windy weather. At Barneys New York for $415.