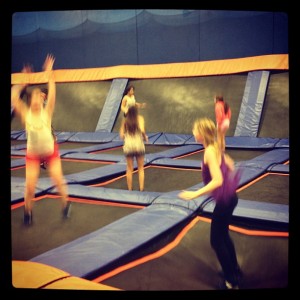 I was in Miami for Art Basel last week and it was back-to-back events – not that I'm complaining… In fact, it was so amazing that I just booked another Miami trip for later this month! I did take a little break however while I was there to scope out what was new on the fitness scene and came across Sky Zone Miami, South Florida's first indoor trampoline park that opened this past October…it is beyond cool. There are Sky Zones in cities around the country, but it was my first time. I went with a friend and instead of catching up over coffee, we caught up while jumping up and down! That's us, pictured above, burning calories as we talk about Art Basel:)
It really is an awesome combination of fun and fitness that people of any age or physical ability can enjoy.  They've got trampoline walled playing courts,  jumping courts for dodgeball and basketball, a giant foam pit, and a SkyRobics program that consist of low impact exercises and combine advanced calisthenics, core exercises and strength building aerobics, all done on the trampoline courts. It's a super fun way to workout and I love that I was surrounded by families, young children, but also super in shape athletic-types looking for an alternative to their everyday workout.
Someone bring this to NYC!!