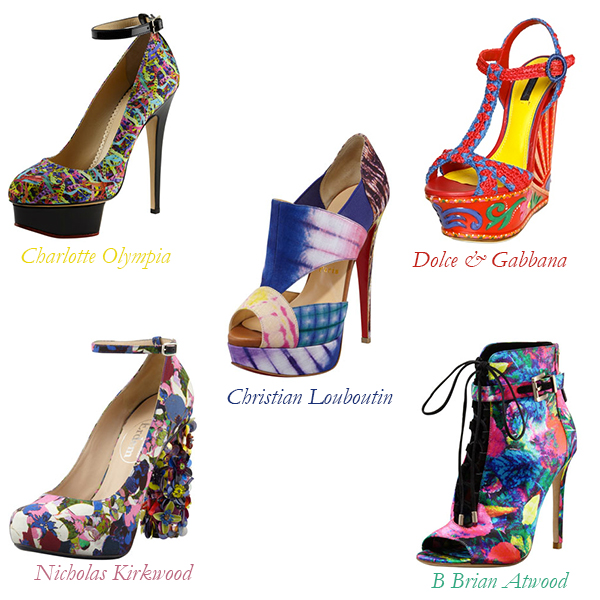 The best way to chase away the winter blues? With every other color of the rainbow! These big shoes showcase all the things a winter wonderland is not – neon, floral, and hot. Proof that you don't have to scream to get attention – your shoes can do the talking for you. Pop on a pair with an LBD and some chunky gold jewels for a night out on the town. From spoked wedges to jeweled heels, here are some of the biggest and brightest:
Charlotte Olympia Dolores Printed Ankle-Strap Pump: Colorful canvas shoes printed with intertwined Brazilian wish bracelets, which are thought to bring good luck! At Bergdorf Goodman for $925.
Dolce & Gabbana 170MM Woven Rafia Wedges: Circus chic – these handpainted wedges so vibrant they belong under the Big Top! On Luisa via Roma for $2,745.
Nicholas Kirkwood Floral-Print Jeweled-Heel Pump: Green thumb? More like a green heel! Flowers may be printed on these pumps, but the jeweled flowers blossoming from the heel are the real showstoppers here. At Bergdorf Goodman for $1,495.
B Brian Atwood Floral-Print Satin Bootie: Floral neon booties that you can buckle, zip, and tie up – hey, better safe than sorry when it comes to high heels, right? At Neiman Marcus for $495.
Christian Louboutin Pitou Cutout Printed Red Sole Bootie: Even with a little tie-dye influence, these Loubies are more summer in the Hamptons than groovy hippie. At Neiman Marcus for $995.