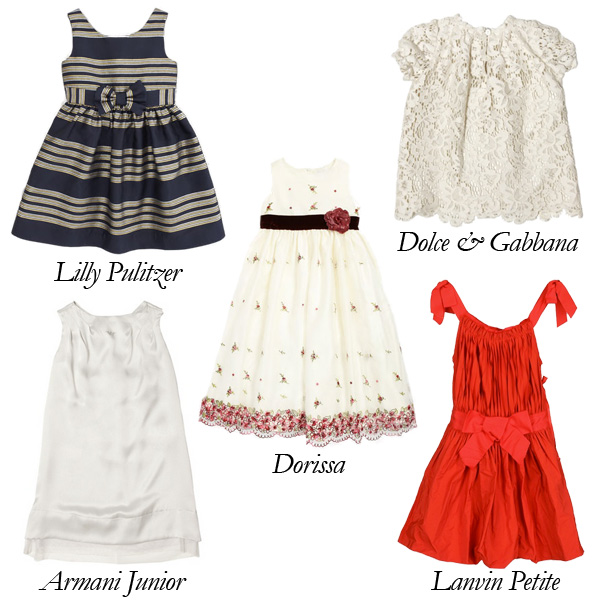 The holidays are the most wonderful time of the year to take memorable pictures as tots are growing. You have the family around, the decorations, so make sure to get them beautiful dresses to wear for all of your photos. Here are some adorable options at every price point:
Dolce and Gabbana Macrame Lace Dress: Angelic white looks beautiful on all tots. Even though this is lace, the silk satin lining will be soft against her skin (you don't want your little girl to be itching all day!). On Luisa via Roma for $388.
Armani Junior Silk Satin Dress: A draped knot on the back and some tulle trim keep this dress interesting, but overall it's just nice and simple, keeping the focus on her cute little features. On Luisa via Roma for $261.
Lanvin Petite Taffeta Dress: I wouldn't spend this much on tot clothes, but if money is really no object, this Lanvin would be perfect for the holidays with its red grosgrain bows. On Luisa via Roma for $1,072.
Lilly Pulitzer True Glam Metallic-Striped Dress: Even though this isn't classic red or green, the metallic silver and gold stripes make it a festive dress. At Neiman Marcus for $78.
Dorissa Olga Dress: We all know that holiday outfits don't get much use, so if you want to avoid spending hundreds on them, this Frugal Snob floral dress will be just as lovely. At Nordstrom for $32.83.