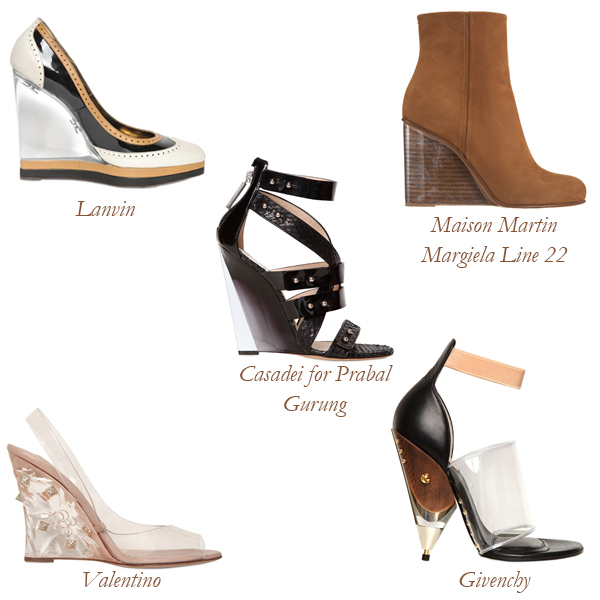 A lot of top designers have plexi shoes coming down the pipeline for spring, but with lucite footwear, you have to be very aware of the fine line between chic and eek! A wink at the overt "exotic dancer" staple is fine and fun, but much more than that and it looks tawdry. When done right, it's fun and irreverent, though! Wedges are a safe bet, so here are the best plexi shoes to stomp around in this season:
Lanvin 130MM Leather with Plexiglas Wedges: A perspex wedge saddle shoe – definitely atypical, but this intriguing update guarantees a classic vibe.
Pre-order on Luisa via Roma for $1,590.
Maison Martin Margiela Line 22: If you're afraid of pulling on the plexi, start slow with this disguised glass wedge – the only thing that'll give you away is the clinking sound your shoes.
At Barneys New York for $779 (from $1,295).
Valentino 100MM Naked Rockstud PVC Wedges: Princess plexi shoes! These fun slingbacks are decorated with Swarovski crystaled rockstuds.
Pre-order on Luisa via Roma for $1,127.
Givenchy 120MM Vinyl and Calfskin Sandals: Okay, so these are pumps not wedges, but they're too crazy to ignore – I mean there are mirrors inserted in the heels!
Pre-order on Luisa via Roma for $3,173.
Casadei for Prabal Gurung 120MM Ayers & Glossy Patent Blade Wedges: Another wild and wacky design – plexi shaped into blade runner heels! Style statement or intimidation tactic?
Pre-order on Luisa via Roma for $1,028.