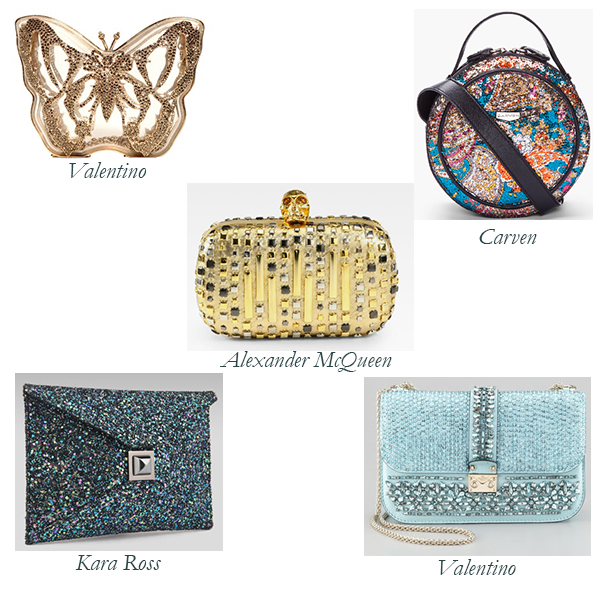 There's no sparkling snow in LA – I'm feeling deprived! The good news is that blinged-out bags are everywhere you look this time of year. They're the perfect party accessories/tree toppers (they're just as bright as any old star!). Clutches are the best way to showcase this level of brilliance, but be daring and try out some other styles, too. Even if the sun is nowhere to be seen, you'll have all the shine you need with these bags!
Alexander McQueen Studded Metallic Leather Skull Clutch: Nothing says happy holidays like a skull (when it's a McQueen skull, anyway!). Metallic leather and shining studs are a double whammy of sparkle. At Saks Fifth Avenue for $1,875.
Valentino Jewel Plexiglass Butterfly Clutch: I am absolutely in love with this bag. Something as bold as a butterfly bag could have been easily overwrought, but this clutch is romantic and delicate. On Luisa via Roma for $5,335.
Carven Round Floral Sequin Shoulder Bag: The same paisley sequined pattern as on the chunky boots I love – it's much more wearable on a bag. On Ssense for $462 (from $660).
Kara Ross Prunella Envelope Clutch: Galactic gunmetal and glitter – a surprisingly chic combo fit for outer space or the company's annual holiday party (sometimes they can feel like one in the same). At Neiman Marcus for $690.
Valentino Glam Lock Flap Shoulder Bag: Sparkle can be hard to find on bags that aren't clutches, but Valentino has enough shimmer to spread around! At Neiman Marcus for $3,095.