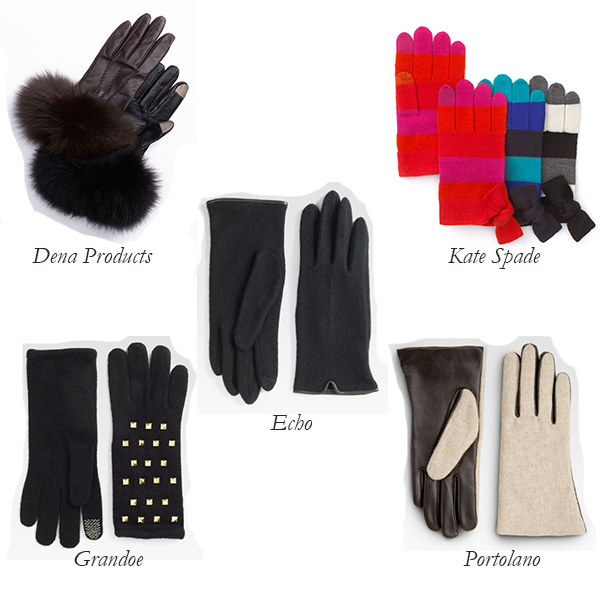 Have you ever been lost outside when it's freezing cold and you want to check your GPS to see how close you are to the party/meeting/dinner, but can't bear the thought of catching frostbite by taking off your gloves? No need to fret nor freeze. Pick up a pair of tech gloves, and your hands (and impatient friends) will thank you for winters to come. They're not for excessive typing – just when you're in a jam and need to check a text or e-mail. These smart gloves are indeed smart, but it's still super annoying to type an entire email in them, so wait until you get indoors before composing your multi-paragraph email.
Echo Cashmere Blend Touch Gloves: They may not be creative but basic black gloves are so convenient to carry if you like to switch around coats – these will match every last one. Exclusively at Saks Fifth Avenue for $40.80 (from $68).
Grandoe Women's Touchscreen Gloves: I love the tan and brown combo on these gloves – simple but chic. They're great if you don't like the little finger patches a lot of smart gloves have. At Saks Fifth Avenue for $54 (from $90).
Portolano Studded Minerva Gloves: These may cover up your jewels, but with gold-tone studs decorating the outside, they're jewels in themselves. And they come in pink! Exclusively at Saks Fifth Avenue for $57 (from $95).
Dena Products Genuine Fox Fur and Leather Tech Gloves: Making fashion more convenient often means you have to scale down – not here. You can have your fox fur and your iPhone, too! At Nordstrom for $94.80 (from $158).
Kate Spade New York Stripe Bow Tech Gloves: These are too cute – the perfect gift for a young girl who loves Kate Spade's bright and girly designs. At Bloomingdales for $46.41 (from $54.60).