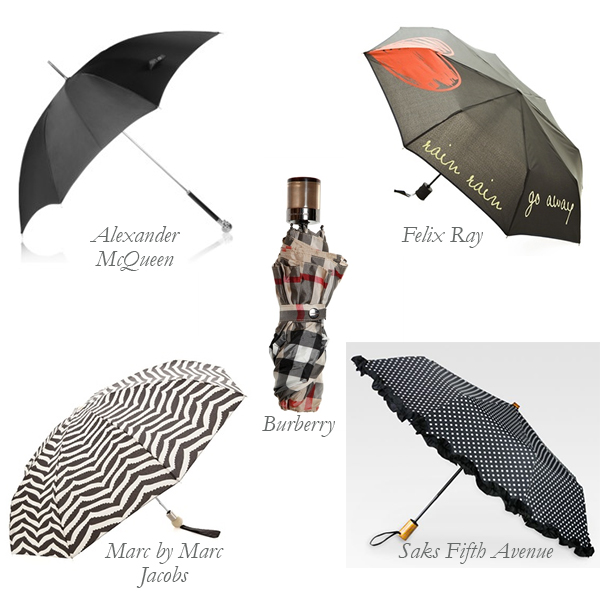 If it's raining, why not make the best of it? Finding the perfect raincoat, boots, and of course, umbrella can make any downpour fun. If you know you're safe from getting wet, you can enjoy splashing around in the puddles! I love big, traditional umbrellas for the sake of style, but compact, automatic ones are really much more convenient.
Burberry Classic Checked Umbrella: Hard to go wrong here! Men and women alike love the Burberry check pattern, so this is the perfect gift for virtually anyone on your list. On Luisa via Roma for $215.
Alexander McQueen Large Skull-Embellished Umbrella: If you like the long cane umbrella that provides full protection from the elements, this McQueen has you covered. On Net-a-Porter for $595.
Felix Rey Rain Rain Go Away Folding Umbrella: Felix Rey uses the rain rain go away rhyme to decorate his fold away umbrella – a great present for a younger girl with a cute, flirty fashion sense. On ShopBop for $75.
Marc by Marc Jacobs Zora Stripe Umbrella: I'm not really a fan of licorice, but a licorice-striped umbrella? Now that's more like it! A simple automatic button gives you quick convenience darting in and out of the storm. On ShopBop for $58.
Saks Fifth Avenue Ruffled Automatic Umbrella: With its ruffles and precious polka dots, this parasol-style umbrella is sugary Southern belle sweet. At Saks Fifth Avenue for $36.