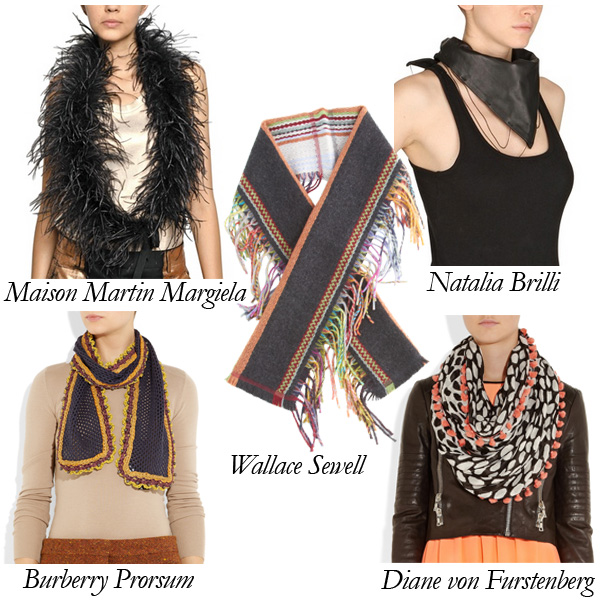 During the winter, you see everyone wearing the same plain cashmere scarf. While it's a staple that I love, sometimes it's nice to dress outside the box. The main reason to wear a scarf may be to stay warm, but does that mean it has to be the only reason? Of course not! It's one of the best accessories for showing off your personality, so find something to wrap yourself in that's as fun as you are.
Natalia Brilli Leather Scarf: You don't see many leather scarves. Leather-accented scarves, maybe, but not 100% leather. I like it. It's part cowboy, part mobster. On Luisa via Roma for $618.
Burberry Prorsum Crocheted Silk Blend Scarf: If you already have Burberry's classic checked scarf, then expand your wardrobe with a lesser-known style – crochet. On Net-a-Porter for $550.
Maison Martin Margiela Ostrich and Turkey Feather Scarf: A classy feather boa! Wear it long or use the ties to make it a circle scarf. Obviously, it would be gorgeous with a formal look, but pair it with some leather slacks for a more unexpected casual look. On Luisa via Roma for $380.
Wallace Sewell Walsh: Colorful fringe can perk up any outfit! This gray cashmere scarf gets some flair with south of the border influence. At Barneys New York for $155.
Diane von Furstenberg Tasseled Voile Circle Scarf: It's easy to lose scarves when you're running around on a windy day, but not DVF's tasseled circle scarf. On Net-a-Porter for $185.