Have you been dying to see Victoria Beckham spring 2013 bags?! Here they are! Well, at least my favorite ones, which will all be available in-store at Neiman Marcus and on VictoriaBeckham.com.
The luscious crocodile Victoria bag ($33,000) in vibrant sunset is at the top of my Santa wish list. But I'm also game for some neutrality: white-on-black-and-white open-work leather additions were inspired by the Italian lace that's a recurring theme in the Victoria Beckham Ready-to-Wear collection (its on the panel of the top she's wearing below). With a modern hexagonal chain ($3,500), the effect is uniquely chic. However, I'm most obsessed with the new zip-pouch crossbodys ($750-$780 each). They are so easy to travel with and great for running around town with my 8-year-old boy, I must have them all! Whichever you fancy, be rest assured that each and every piece in the collection is meticulously made. Even the interior is as perfect as the exterior; I have the Victoria tote ($2,450) and feel like I can flip it inside out and use it!
I also had the pleasure of interviewing Victoria when she presented her Spring '13 collection at Neiman Marcus Dallas last month. Jump to see highlights from our Q & A. You'll be surprised to learn what her very first designer bag is! I must note – the black Victoria Beckham dress I am wearing in the photos is the most amazing waist-cinching dress I've ever purchased, Victoria herself could not get over how good I look in it and kept complimenting me. Short of removing a rib or two, I never thought I could have such a tiny waist!!!
After the presentation and our Q & A, Victoria mingled with the guests and took photos with every single person in attendance. I don't think I've ever seen a designer, let alone a super-famous celebrity, do that at a PA. But then again, Victoria is a rare breed.
1. I love your dresses! They suck everything in and lift everything up. It's like we can all have your body for a day when we wear them! When you design a dress, what do you think about first?
"I always want to design things that I would want to wear myself. I love women, and I want to empower women. I want women to feel beautiful and feel confident. It's about clothes being flattering. Nothing too challenging – sucking in the bits that a lady wants to suck in and creating an incredible shape."
2. Do you have a favorite daily uniform or is there some kind of style you like to wear every day?
"Again, nothing too complicated. You get in, you zip in, and you go."
3. What was your first dream bag? When did you finally get it?
"The first bag I ever had was actually a Gucci shopping bag. One of my mother's friends bought something from Gucci and gave me the bag it came from. I used to carry my schoolbooks to school in the Gucci bag, day in, day out, until the bottom fell out."
4. Tell us what you're wearing right now. "It's a two piece separate from my Spring 2013 collection."
5. What are you most excited about for Spring 2013?
"It's the first time I've designed separates in my collection. So I'm very excited about the new silhouettes it offers."
6. Let's discuss VB bags. THEY ARE SO GOOD! Timeless, yet thoroughly modern. Why did you decide to design bags?
"I started to design because there were things I wanted but could not find at the stores. Everything is custom-made for us. The bags are all handmade in Italy. So it's really important that I can offer my customer the best quality in everything from the bags to the clothes. I just want to make women feel good and special. And every time somebody takes one of my bags out of their closet, I want them to feel special. That's why I do what I do."
7. What was the last thing you bought? "A Balenciaga jumper in Las Vegas!"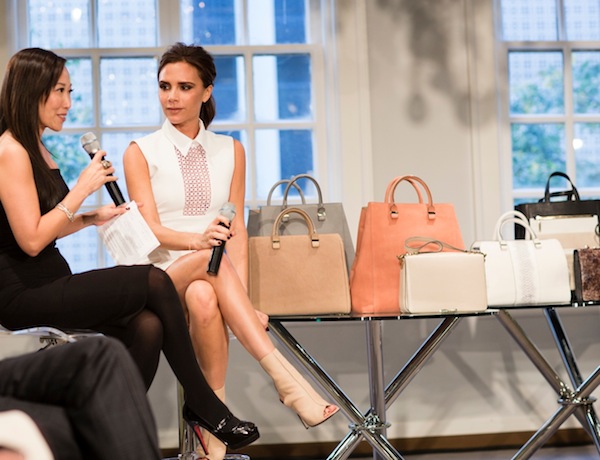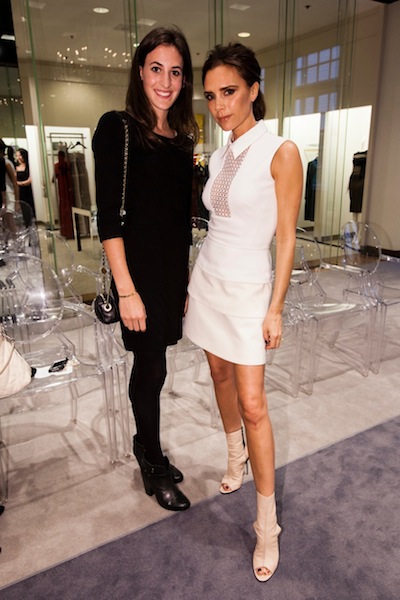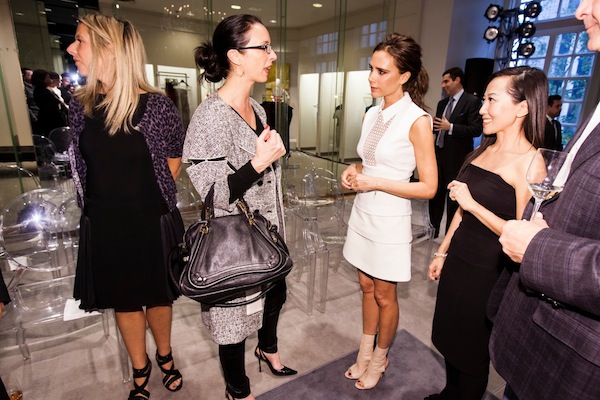 This post is also available in: Chinese (Simplified) Chinese (Traditional)