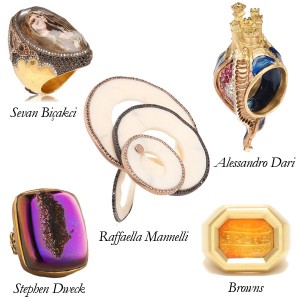 WWW gives us tips on how to spice up any look this season – even if we've got on ten layers to stay warm.
Bag Snob tells us what her 5 essentials are for Homeland's Carrie Mathison. Did you guys watch the finale? Spoiler alert: There were tears.
If you're reading this the apocalypse did not happen – yay! But the Fashionista still thinks there are some trends that need to die out anyway. Hey, new year, new trends!
Why pay tons of money for leather clothes when Couture Snob has found so many nicely priced vegan options? Financially and eco-friendly!
Stuart Weitzman talks to the Cut about his sexy shoes and their even sexier model – a little unknown named Kate Moss.
With all of the holiday parties happening, you need to be ready to make a lot of small talk – let Jewel Snob's conversational cocktail rings do all the work.
There's no doubt Gwen Stefani is still a rock star. Go behind the scenes of her Vogue cover shoot to see the Saint Laurent-styled proof.
Ken Downing and Le Metier de Beaute have created something Beauty Snob and Jewel Snob can both love – a scented necklace!