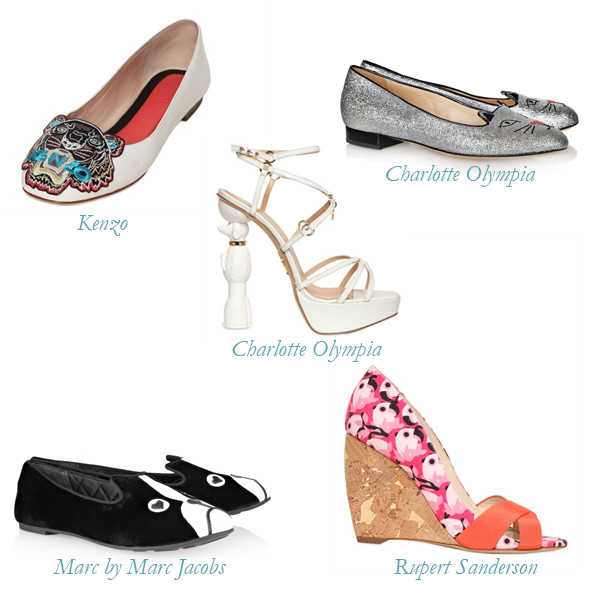 I've never really understood the desire to wear animals on our clothes – it's hard to take anyone seriously above the age of 12 when there are dogs on their shoes. The most comical here are the Marcs and of course Charlotte Olympia is all over this. These are cute and acceptable to wear at home as house slippers, but none of them should ever see the light of day. Just take the money you would spend on these shoes and buy a real pet – they're a lot more fun.
Kenzo 10MM Tiger Patent Leather Ballerinas: I'm sorry, but these are the ugliest things I've ever seen. After seeing Life of Pi, I have an even greater respect for tigers – they're beautiful animals and don't deserve to be desecrated in this fashion. And in case the appliqué wasn't gross enough, it's been embroidered with "Kenzo." I don't know why they want their name attached to this abomination, let alone emblazoned on the front – serious overkill. What old lady (and that is the Kenzo customer) would wear these? Pre-order on Luisa via Roma for $367.
Marc by Marc Jacobs Shorty Leather-Appliquéd Velvet Loafer: To me, the Marc Jacobs Shorty dog just looks sad, and I'm sad for him and his tacky owner. On Net-a-Porter for $225.
Charlotte Olympia Glitter Kitty Embroidered Glitter-Finished Flats: These stupid shoes are somehow very popular – in the same way that Hello Kitty is popular, I guess. Exclusively on Net-a-Porter $695.
Rupert Sanderson 100MM Parrot Print Cork Wedges: At least the parrot pattern is subtle, but I just don't know why there are parrots on these at all. It's not the elegant type of design we've come to expect from Rupert. On Luisa via Roma for $762.
Charlotte Olympia 140MM Cherie Poodle Patent Sandals: A puppy heel? What is there even to say? It's no surprise that Charlotte Olympia is a repeat offender on this list. Pre-order on Luisa via Roma for $1,939.