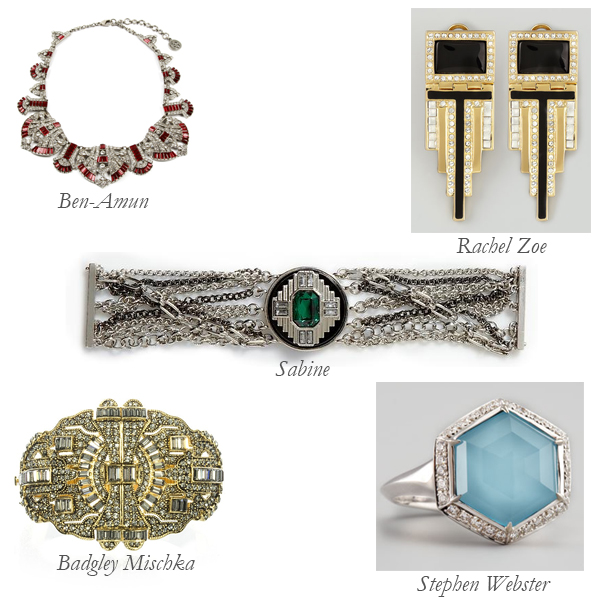 With movies like Gangster Squad and The Great Gatsby coming out this year, I have the lavish Art Deco era on the brain. I'm in the mood for jewels designed with the grand, symmetrical style in mind. Its rich colors and glamorous exuberance bring an immediate sense of elegance to what you're wearing. Jewels like these are so ornate and geometric that sometimes they look like beautiful maps that need deciphering.
Ben-Amun Ruby Deco Crystal Statement Necklace: This is the kind of necklace you would wear to a red carpet event. With white and ruby-colored Swarovkis, it shines like a dazzling chandelier, the centerpiece of your outfit. On Charm & Chain for $945.
Rachel Zoe Deco Drop Earrings: The Art Deco style must have started with an OCD designer – the look is all about symmetry, but with the fabulous glitz, it's never boring. At Neiman Marcus for $260.
Badgley Mischka Ornate Deco Hinged Cuff: This piece is my favorite – an intricately bejeweled cuff that makes you forget that Art Deco was actually inspired by sterile Machine Age steel and glass. On Charm & chain for $350.
Stephen Webster Pave Diamond Art Deco Ring: If you prefer your grandeur on a smaller stage, this Stephen Webster ring will give you the style and shape without all of the pomp and circumstance. At Neiman Marcus for $3,800.
Sabine Art Deco Medallion Bracelet: As they say, you don't need to spend a million to look like a million. And approval from fashionista Olivia Palermo isn't exactly a bad endorsement. On Piperlime for $16.99 (from $36).