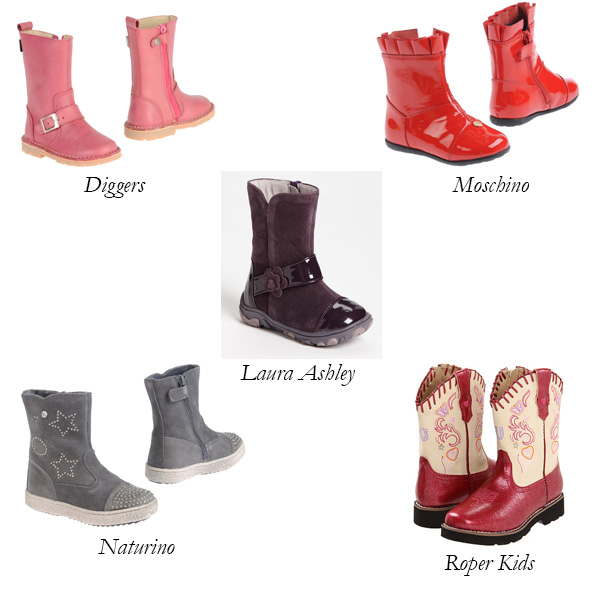 Boots are winter essentials, but finding the right ones that fit comfortably and serve your purpose (Keep the snow out? Look cute?) is tricky. I'd say the best bet is to try to match the shoes to your little girl's personality – moto-style for tots with attitude, cowboy boots for the free spirits, and wellies for everyone (because we all have to deal with the rain). Here are some little boots with fashion and function to boot!
Diggers Boots: Princess pink lightens up the normally tough edge of moto boots. This is that pair of shoes she'll love so much that she never takes them off (even in bed). On Yoox for $89 (from $125).
Moschino Kid Ankle Boot: Shiny fire-red patent, a precious gold heart, and ruffles? Doesn't get much better or brighter than this in a little girl's book! On Yoox for $185 (from $218).
Naturino Boots: With cute stud embellishments and the Converse-like cap-toe, these will be kid faves. Pair them with pants or a skirt, and they'll look equally adorable! On Yoox for $128 (from $161).
Roper Kids Riderlite2 Square Toe – Hearts and Butterflies: Just like the moto boots, these cowboys get the tot treatment – instead of skulls and spurs, we get hearts and butterflies. Bonus: she can be a cowgirl for Halloween. On Zappos for $47.99 (from $56).
Laura Ashley Rain Boot: These boots are made for winter. With the polyurethane bottoms, they're the best pair of the bunch for protecting her little piggies from the dangers of splash puddles (because you know she'll jump in them) and snow banks. At Nordstrom for $49.95.