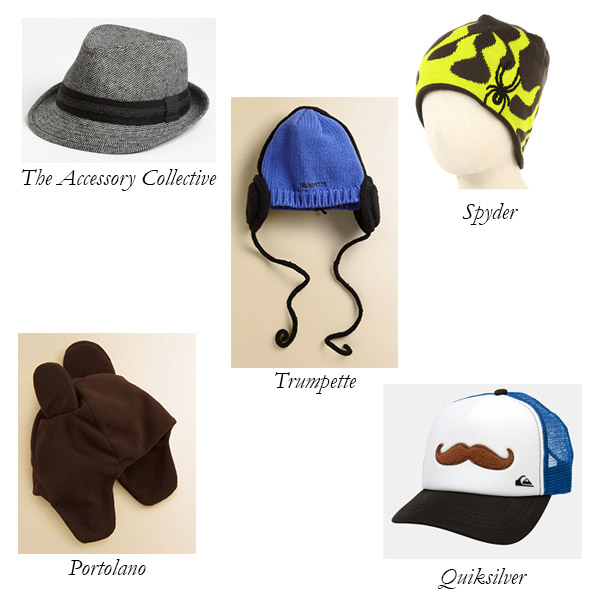 I love hats and can't wait for chilly days to wear them, but it's hard to get kids as excited, no matter how brutal the weather is. Once they find one they really love, though, it'll be hard to get them to take it off. But not just any old black hat will do – whimsical, creative touches are key to winning a tot's affection. Here are some fun options that will make them want to wear these no matter what the temperature:
Quiksilver Stavi Snapback Trucker Hat: This one won't keep him warm, but a trucker hat will be perfect for keeping the sun out of his eyes and a smile on his face on hot summer days. At Nordstrom for $22.
The Accessory Collective Herringbone Fedora: Most tots aren't interested in looking dapper, but just show them a video of the Rat Pack and I bet they'll give this a chance. At Nordstrom for $25.
Spyder Kids Boys' Fire Hat: This skateboard hat is just the style little boys love. Flames, spiders – they like anything that will make them look tougher. On Zappos for $25.
Portolano Kids Fleece Hat: If he's a fan of Where the Wild Things Are (and what little kid isn't?), chances are he'll jump at the chance to take on some animal attitude. At Saks Fifth Avenue for $24.50 (from $49).
Trumpette Kid's Headphone Hat: Besides being a cute idea, this clever topper makes sure your tot's ears are warm and cozy – it's a hat and earmuffs all in one (which is nice because you know you'll never get him in earmuffs). At Saks Fifth Avenue for $27.