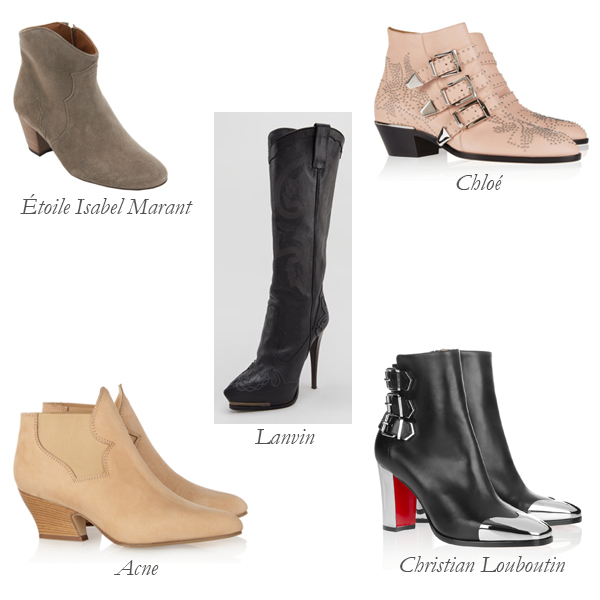 We've been seeing a lot of cowboy boots around lately, and depending on my mood, I'm either excited about this or disgusted but no matter what the fact remains – I don't live in Texas, so where could I wear them? But I've sought out a solution to my geographic fashion challenge. Five solutions, actually – these boots give you the cowboy feel without going the whole hog (except for maybe the Lanvins, but hey – true cowboys don't always fit the mold):
Étoile Isabel Marant Dicker: When I think of these boots, I can't help but picture Katie Holmes. She's been photographed in them a million times, proof of just how comfortable and versatile they are. At Barneys New York $600.
Chloé Susanna Studded Leather Boots: Even on half buckled moto/half cowboy boots, Chloé brings feminine ballerina pink and decorative stud detailing. The combination makes them magically perfect for both a weekend on the ranch and a day in the trenches during Fashion Week. On NET-A-PORTER for $1,345.
Acne Alma Brushed-Leather Ankle Boots: The forward-pressed heel gives this shoe an intriguing silhouette, but the creamy brushed leather is what makes me want to get in the saddle. On NET-A-PORTER for $530.
Christian Louboutin Chelita 85 Metal-Detailed Leather Boots: These are for all of the urban cowgirls who need to sprint from borough to borough, all the while giving off a tough chick vibe. On NET-A-PORTER for $1,795.
Lanvin High-Heel Cowboy Boot: Okay, so these are outright cowboy boots (if cowboys wore heels, that is), but if you know me, you know I'm happy to give Lanvin ample leeway. At Neiman Marcus $3,200.