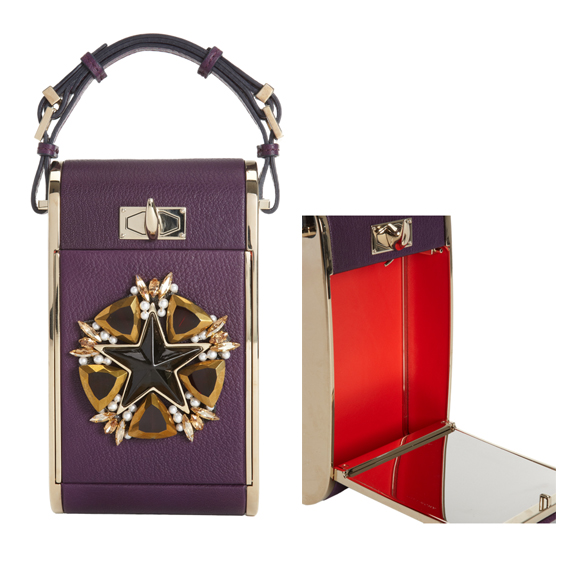 C'est la vie: the coolest things are often the most impractical. Bags especially. I can't get over how ridiculously amazing this itty-bitty minaudière is. Essentially, it's a metal box topped with leather trim and embellished with an over-the-top star emblem. Only Givenchy could get away with this – and make it look irresistible.
While the handle helps you hold it, this baby is about the size of an 8-track – if anyone knows what that is – and weighs about 10 pounds (okay, maybe seven). Givenchy's signature horn clasp opens it up like a glove compartment: it's a door that completely swings open so everything is guaranteed to fall out upon release. By "everything" I mean your phone because that's about the only thing that will fit in here. But at least you get the pleasure of a pristinely polished-metal surprise: the "door" also serves as a mirror.
This is a pure statement piece and when the statement is this loud and proud, you can get over the little things – like an exorbitant price tag and the fact that it's totally dysfunctional. At Barneys New York for $3,995.
Pair with: Something almost as decadent and only a tad more practical: Saint Laurent's striped metallic-and-suede sandals make for on-trend emphasis. On Net-a-Porter
for $1,195.