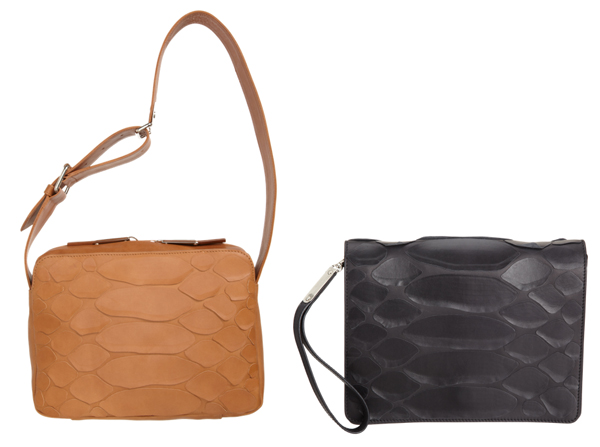 I wouldn't go so far to say I'm marching straight out to Barneys to pick this up, but I like the direction this Maison Martin Margiela bag is going. More specifically, the concept of applying stamped snake-print leather in an exaggerated way, so over the top you know it's not trying to be real. On the contrary! These could very well be dinosaur scales or a skin from some imaginary creature. Fortunately, the muted palette and overall restraint (always appreciated when we're talking Margiela) keep it out of Fantasyland.
It makes for a unique take on a tried and true texture, without detracting from the functionality – and I always like that. I'm feeling the look of the shoulder bag ($1,995), a classic style with a hearty buckle over the strap, but there's also something undeniably cool about the clutch ($1,680), all thin and slim, save those immense ridges. I say, opt for anything unusually tactile when you have the chance – with all that skin out there, the standout treatments are hard to come by. Available at Barneys New York.
Pair with: Double your leather, double your fun. Just don't detract from those scales. Thakoon Addition's lightly pleated mini-skirt says skin is (still) in. On Net-a-Porter
for $690.