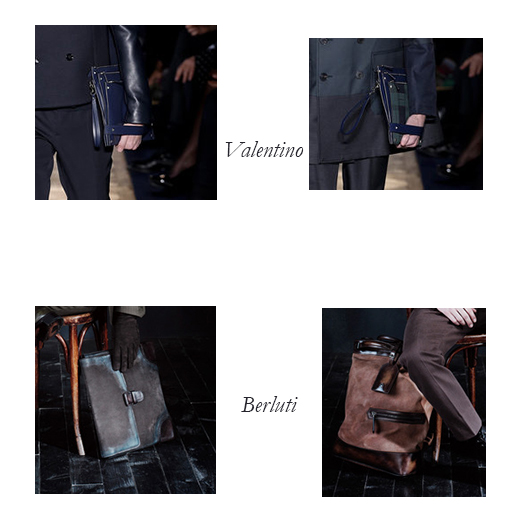 In Paris, the men's shows for Fall/Winter 2013 continued, leading to another round of fine bags for men, that I'm looking forward to gracing the city streets. The French houses (and an American) managed to create covetable accessories that were neither too outlandish nor feminine. So the question I have to ask is who's your guy?
Valentino is a guaranteed favorite of mine in all areas of the fashion industry. From Women's prêt-à-porter to couture to menswear, the simple and beautiful luxury of Maria and Pierpaolo is indefatigable. What Valentino did right is understanding that men will want small bags that can hold all the essentials they need without the bulk associated with a tote. These clutches and pouches are perfect for the man on the go.
Briefcases and larger portfolios? A boring sound, right? Wrong. Just look at what the über-luxurious house of Berluti did for men this season. Their samples included asymmetrical briefcases, slim clasped portfolios, suede weekenders and knapsacks, and other insanely amazing bags. The materials all feature a vintage-y look in neutrals without looking tacky. This collection is total go.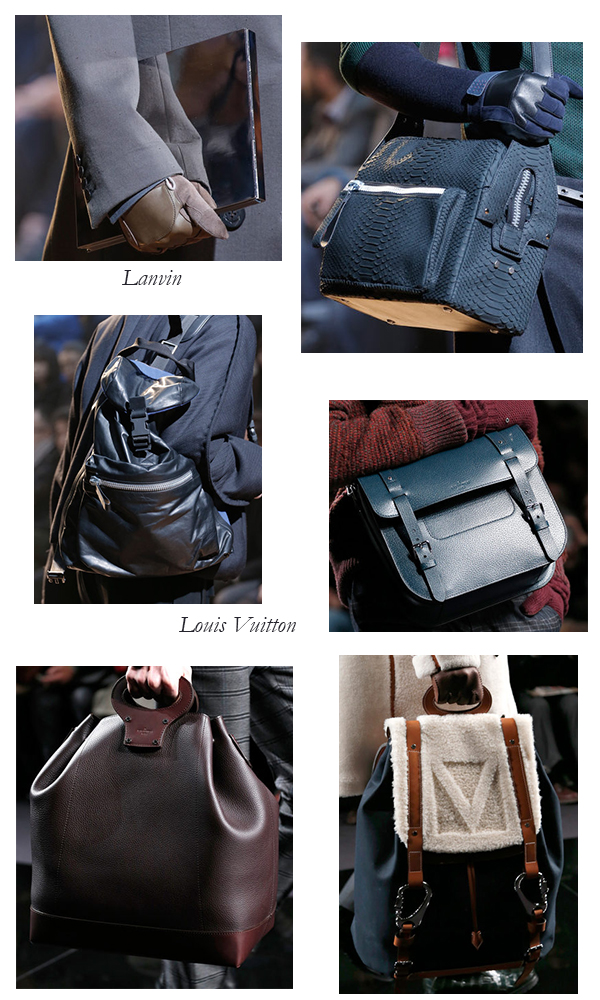 You can always count on being surprised somewhat with Lanvin. Lucas always manages to shake up the direction of menswear each season within the house. Sometimes a collection is more luxe, and sometimes sportier. This is definitely one of the latter. The bags definitely play into this theme. Clean and chic backpacks are memorable, along with structured shoulder bags, and shiny, rectangular portfolios.
And finally, we have Louis Vuitton, which once again provided a beautiful and chic men's collection that all would want to wear. And of course, Kim Jones did not fail with the bags. From blue satchels, to backpacks covered in wool, nothing was left out. Familiar shapes and forms were included, and some classics were modified. Ultimately, this was truly a winner.
Image Credit: Style.com