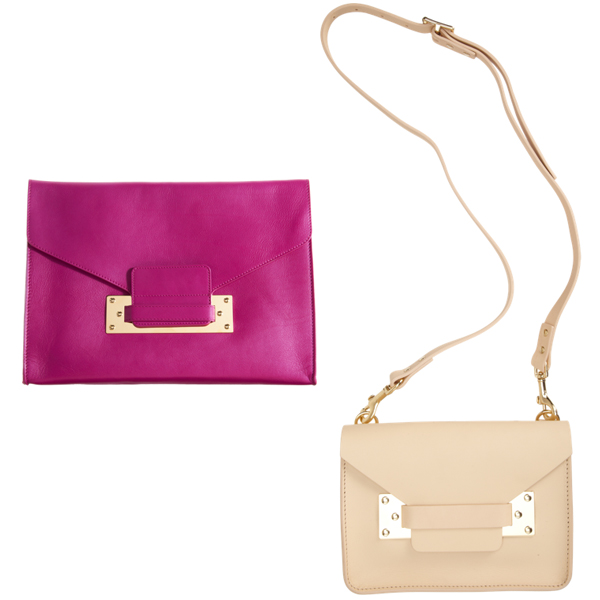 Sophie Hulme is growing on me as a Frugal Snob option. Although the proportions are a bit extreme. Like the Crossbody Envelope clutch ($645) is so large it's really not clutch-able, and for me, it doesn't work to wear it crossbody either – it's big enough to hold your laptop!
But the Mini Envelope ($495) fits the bill. It's not like the miniature versions of everything you've been seeing lately, so shrunken you can hardly squeeze your phone in (what is up with everything being made in Suri Cruise's size lately?!). Hulme's take on mini is a good size for daily use while you're running around and perfect as a crossbody. At 6″ x 8.25″, it will fit a medium-size wallet, phone, and a couple of lip gloss choices.
The straps are removable, so you have the option to convert to a clutch, but I don't like the fact that the loop hardware remains very visible. No big deal. That distinctive tab packs all the character the bag needs. You either love it or hate it, and I find myself loving it more each time I see it. But best of all, while the line's leather is very stiff, the quality is great, and you know this steal will hold up for the long haul. Available at Barneys New York.
Pair with: Hulme's aesthetic meshes with Maiyet's clean lines and gold touches, as seen on their taper-toe pump. At Barneys New York for $399.