UPDATE: Congrats to the winner- @Jade_Melissa – enjoy your bag and stay at the St. Regis!
I am on the most magnificent tour in Shenzhen, China. A Grand Tour, in fact. Not unlike the grand tours taken for centuries by affluent travelers in the past. They'd go on these extensive, opulent journeys around Europe and Asia, cultivating both experiences and knowledge. Today, a modern traveler has emerged: multi-national and cross-generational, mobile, social-media savvy, and jet-setting. Which means the accommodations must be up to speed. With first-class hotels the world over, St. Regis is uniquely positioned to satisfy the needs of this new breed. Offering bespoke contemporary luxury, their perspective is distinctly their own.
I was given an opportunity to take such a tour, and, of course, jumped at the chance. My travel companion is the chic Grand Tourista bag designed by St. Regis brand-connoisseur Jason Wu. I have to admit, I was very surprised at how beautifully crafted the bag is, as most bags by hotels or similar brands are made just for marketing purposes. But this one has been thoughtfully designed and carefully constructed, not to mention made in Florence, Italy. I can vouch for its Hermès-level quality, yes it's that good! Plus, it fits everything from my MacBook to my iPad Mini, Kindle, makeup bag, multiple wallets, and so on, and it sits perfectly on top of my roller-board and luggage. I brought it all with me to the St. Regis hotel in Shenzhen (the magnificent 100 story Kingkey building- more on that experience next week!). A good travel bag, as bag snobs know, is very difficult to find. Jason and St. Regis have literally solved all of my over-packing issues!
Would you like to win a 5-night stay at a St. Regis property, plus the Grand Tourista bag? Enter on INSTAGRAM by showing us a photo of what you would pack in the Grand Tourista!
TO ENTER:
1. FOLLOW @StRegisHotels on Instagram
2. Upload your photo onto Instagram with hashtag #GrandTourista to enter.
Qualifications: Residents of US, UK, Canada (except Quebec)
Contest ends FEB 7th at 11:59pm
If you're like most of my friends and cannot wait for anything, let alone a contest, buy the Grand Tourista bag here! You will never travel again without it.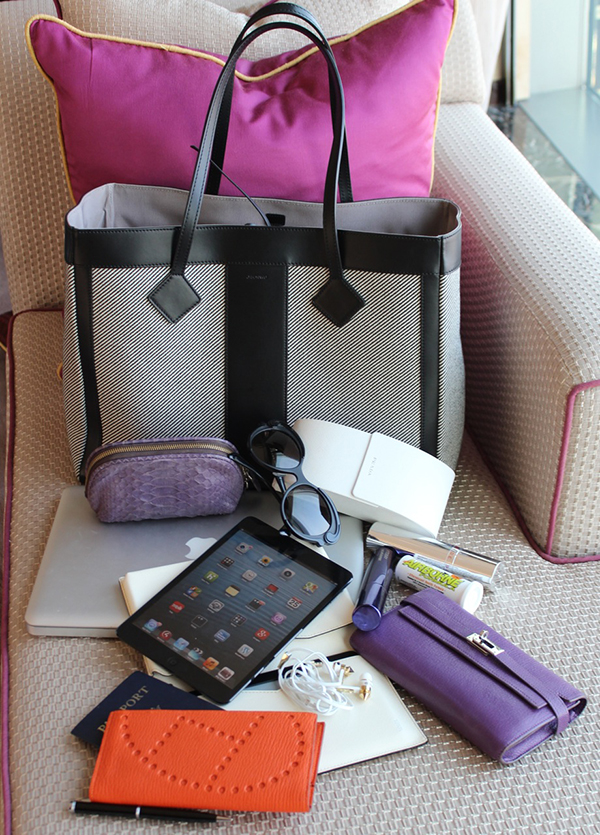 What's in my Grand Tourista bag?! From top left: MacBook Pro, Tina Craig python makeup bag, Prada sunnies, Le Métier de Beauté Peau Vierge (the best tinted moisturizer for apres-flight), Airborne, Light Expert by Terry (live and die for this!), Hermès Kelly Longue wallet in violet, iPad Mini & Kindle in a Valextra case, Lady Gaga headphones, Hermès passport/travel wallet (has compartments for multiple currencies!) and passport.