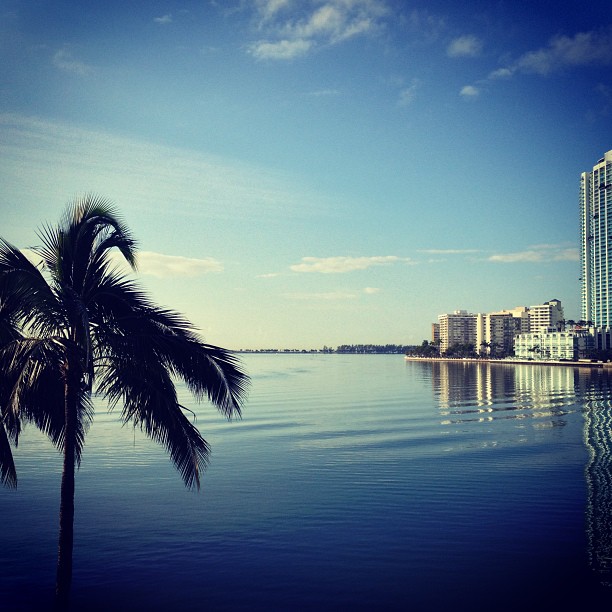 I got back from Miami a few days ago and the transition from 70-something to 30-something degree weather has been brutal…already figuring out when I can head back next for a weekend! I was there over New Year, which was fantastic because it kind of felt like NYC was transplanted to Florida meaning I kept running into people I know. I did manage to get some down time at The Standard and The Mandarin Oriental while I was there and I was seriously in awe- especially of The Standard's fitness/health-focused offerings.
Below is a photo I snapped of an outdoor meditation around a fire pit at The Standard…how cool! They also have a number of daily outdoor and indoor yoga classes (you can go for $18 even if you are not a hotel guest), including sunrise yoga, thermal baths (same idea as Aire, but on a smaller scale), a pool with a slight current so you feel like you're in the ocean/get an extra workout boost when you're swimming, a section with two-person hammocks, outdoor relaxation swings, a variety of muds and bathtubs so you can give yourself a DIY mud bath near the pool ($20 and you can soak in the tubs as long as you like), along with daily juice cleanses, a variety of health talks, and a full spa. I had a super relaxing Swedish massage (it's rare that I don't do deep tissue so this was a nice breather!), and I got a mani/pedi. They mostly stock essie shades, but they have some RGB as well. If my parents didn't have an apartment for me to crash at in South Beach this would definitely be my hotel of choice!
As for the Mandarin Oriental – it's certainly not shabby either. They have a stunning infinity pool overlooking the water (check-out the photo I snapped above!), and their spa rooms (especially their suites), are beyond spacious. They also happen to make the most out-of-this-world tea…they're likely to offer it, but if you go and they don't make sure to ask for it. It's so flavorful I had a hard time believing it was calorie-free. This is definitely the place to go if you're looking for a lush spa experience. Their staff is beyond professional and the rooms are simply stunning. They also offer a variety of seasonal treatments.