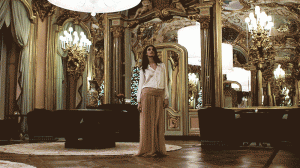 The Luisa via Roma Style Lab was a complete success, but how did our star-crossed lovers fare? Find out on Bag Snob!
Some people hate ads – movie trailers, magazine campaigns, all of them. But one of my favorite things about opening up a new glossy is devouring the ads! Check out The Cut's roundup of spring's best and most memorable.
Unicorns may not be real (hope I'm not crushing any dreams!), but Jewel Snob gives us the low-down on a designer who's bringing them to life.
It turns out Louis Vuitton's checkerboard fashion show was just the start of the boxy trend. Fashionista names its top 10 checkered pieces, and in a surprise move, there's not an LV in sight.
Shoe Snob lists the top 5 sexiest nude sandals for summer. Just make sure you get a fake bake before sliding into them – don't want the contrast to point out that you and Casper are BFFs!
The Neiman Marcus x Target collab may have been a little lackluster (a lot lackluster) in performance, but you know Prabal's going to hit it out of the park. Preview the entire collection on SHEfinds.
Couture Snob tells us how she would style the best actress Oscar nominees. Which look do you think would win the big trophy?
Vogue thinks monogramming is having a moment. Customization is, after all, one of the simplest ways to make even the most ubiquitous item personal and exclusive.
I'm always trying to streamline my packing process to make sure I have everything I need without bringing everything I have. Beauty Snob is here to help with her in-flight must-haves (sadly, champagne is not one of them).
Choosing basic pieces is easy, but accessorizing? That's the challenge and it can easily go awry. Try out some of WWW's suggestions and see your style cred go through the roof.