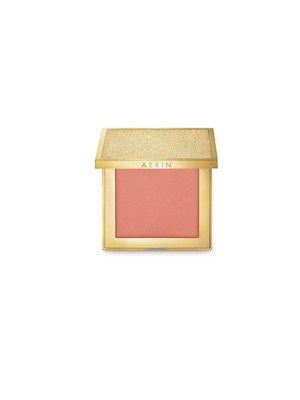 Aerin Lauder is well on her way to building a namesake empire of her own with a full-fledged line of home and beauty products (shoes are launching shortly). I was recently sent some items from her new limited edition Garden Color Collection and I immediately saw the Estee Lauder influence. Quality-wise the two brands are identical and the packaging is also very similar in aesthetic. Like Estee Lauder, Aerin's palette are super convenient to tote and come with brushes, something increasingly rare even for high-end cosmetic lines. The Aerin line is slightly pricier than Estee Lauder so the real draw is her curated selection of shades.
For her latest limited edition collection she was inspired by the shades of early Spring flowers, which made for two versatile eye and cheek palettes ($70 each), one of which is pictured below. Garden in Bloom includes three eye shadows: a lavender-tinged champagne, a lilac, and a purple along with a dark rose blush. Garden at Dusk includes an icy pink, a shimmering periwinkle, and a dark grape shadow along with a mauve blush. Aerin also launched new shades of her Bronze Illuminating Powder, Fresh Skin Compact Makeup, Multi Color for Lips and Cheeks, and Rose Lip Conditioner this month.
Again I don't see much of a difference between this and the Estee Lauder line, so if you're an Estee fan but like Aerin's limited edition shades better, you shouldn't be disappointed!