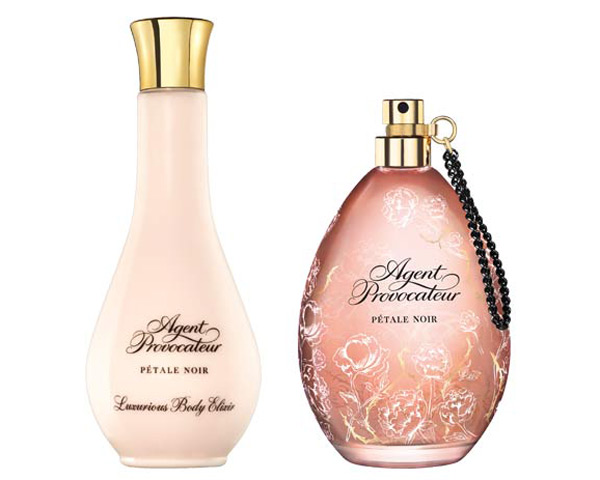 Agent Provocateur is on a roll with their ancillary products. Just in time for Valentine's Day they've launched a new scent, Pétale Noir (50ml Eau de Parfum $87, 100ml Eau de Parfum $118, Pétale Noir Luxury Body Elixir 225ml $53), designed specifically to lure in a lover (hey…scents are a powerful thing!). The scent begins with notes of Mandarin, Water Lily, Bergamot, Violet Leaves, Hyacinth, Flower Stem Accord, and Magnolia, then progresses to middle notes of Rose Otto, Rose Absolute, Ylang Ylang, Muguet, Neroli, Heliotrope, Orris, Osmanthus, and Cassis Blossom.  The top notes are Ginger, Cedarwood, Sandalwood, Cistus-Labdanum, Musks, Vetiver, Leather, Oak Moss, Tobacco Leaf, Benzoin, Patchouli, and Amber.
To complement the scent their new body elixir blends a variety of natural oils to hydrate and entice….it's made with extracts of 'Devil's Eyelashes,' thought to increase sexual stamina, and Tephrosia Purpurea Seeds, which are thought to help promote a sensual, tingly feeling on the skin. I tried it and didn't feel tingly, but I did feel like the scent was enticing if I do say so myself!
The scent, I learned at the launch event, was designed as a play on naughty-or-nice, which is why it opens with soft notes and gets progressively bolder. It's also why the brand's signature egg-shaped bottle has a black chain closure. I still think Tom Ford's White Suede is the world's most alluring scent, but I'm up for switching things up with this newbie…plus I've always loved AP's boudoir-esque packaging.
What scent will you be wearing on Valentine's Day?