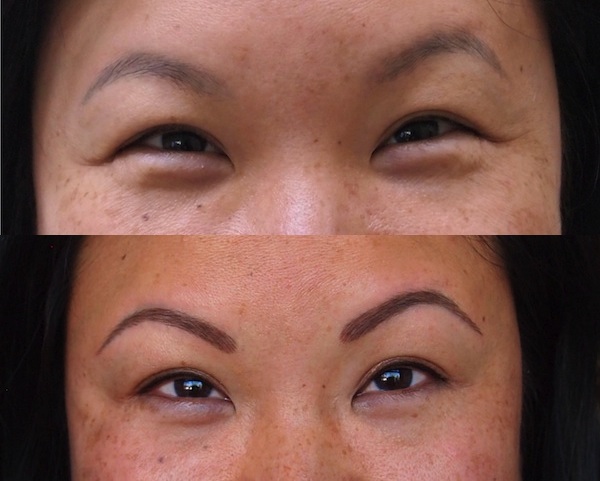 When I was 18, my mother had me get my eyebrows permanently tattooed. She thought the no-brow look was bad luck. However misguided her views on this issue were, it is true that the eyebrows frame the face and are the most important features there to groom. The pain of that experience remained with me, though, so even after the tattoos faded, I was stuck with the annoyance of penciling in everyday (because I have no brows!). Facial tattoos aren't to be taken lightly. It was only after a friend of mine had them done well at another friend's place called Temptress that I decided to get temporary brow tattoos. My biggest problem with the original permanent results was that they faded to a bluish hue. I'm glad that I had it done very lightly, so it's not as bad as it could have been, but even so, I've had to cover the blue tint on a daily basis. This discoloration happened because permanent tattoos are done with metallic ink (that's how they get them to stay), which oxidizes to blue. When I got my temporary tattoos, on the other hand, the artist used organic vegetable ink. As a warning, though, whether permanent or temporary, the pain is the same. For whatever reason, they didn't use any anesthesia my first time around. This time I got a lidocaine cream, which took the edge off, but the experience was definitely still uncomfortable. With each pass, more lidocaine was applied and by the time the needle opened up the skin, the cream got to be more effective. Either that or I just got used to the feeling.
The most drastic and important difference between my two experiences was the technique. The incredible "artist" that did my eyebrows this time is everything. Instead of drawing a solid line (which is all you can do when you use a pencil or powder) or dots (what I had done previously), she used feather-like strokes to create the illusion of real hair. Now it looks like I have actual strands, especially at the ends where I truthfully have zero hair (she had to extend my brows there to compensate). When I would pencil them in, it was so obvious that they had been penciled in, whereas now, it looks completely natural! I also had my lash line done. Not eyeliner that sits above the lash line, but the areas between lashes, so that you have a thicker, more luscious look. As you can imagine, this felt completely unpleasant, even though she had told me it wouldn't hurt. Fortunately, it only took five minutes for each eye, and the results were phenomenal – they made me look refreshed and awake right out of bed. I'll still put on eyeliner for extra impact, but this made me feel more comfortable without makeup.
Don't do any of this unless you go to my girl Natalie, though. If you're near the LA area, it's worth the drive. If not, go to someone who uses organic vegetable ink and the feathering technique. Make sure to check out the final product on a client who has gone there before. The tattoo is supposed to last six months to a year, but depending on how quickly your skin cycles through, that period could be much shorter. While my brows still look great after a few weeks, sadly my lash line has completely disappeared. I'm scheduled to go in for a free touchup but don't know if I can endure the pain for such a short period of gain (she refuses to do a darker line because she insists on only creating a natural look). I'm in for the long haul with these brows, though. This girl better not leave me because I'll be needing her every six months for the rest of my life! It's $350 for brows and $100 for the lash line at Temptress (730 S. Allied Way in El Segundo, CA 90245). Call (310) 647-3467 and ask for Natalie!