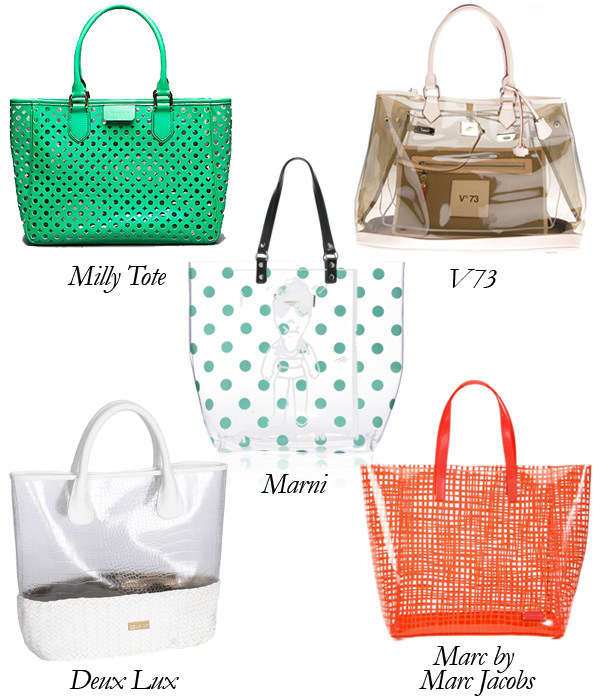 Punxsutawney Phil hinted that it's going to be an early spring, so you'd better get shopping for one of these pvc tote bags. Sure, they're super beach friendly, but you don't need to wait for balmy weather to tote these bags around. Don't spend all of your savings on the style, though. Call it a spring fling! With clear leading the way in trends, you'll be current and still flush with cash – not something you can say every season.
Marc by Marc Jacobs Checkmate Tote: This brightly patterned bag – aptly named Checkmate – is the ideal candidate for your closet. It comes with leather handles, so you won't have PVC digging into your shoulders as you strut down the sidewalks. At Saks Fifth Avenue for $198.
V73 Tote Bag: This tote is just as big as it is clear – giving you all the wide open space you could ever dream of. And with the opaque internal pouch, there's really nothing left to ask for. On Farfetch for $270.83.
Marni Shopping Bag: With the price cut in half, this is a true Frugal Snob steal. The shopper may have playful polka dots and a signature puppet print on the front, but the riveted black straps aren't joking around one bit. This is a PVC bag that knows how to mix business with pleasure! At Marni for $143 (from $285).
Deux Lux Mykonos Clear Tote: With only a thin white base to cover any unmentionables, Deux Lux doesn't leave much to the imagination. But considering the whole thing is croc-embossed, I'm more than willing to bare it all. At Nordstrom for $145.
Milly Addison Tote: A little less Frugal, but Milly is giving you twice the nice – a mix of the PVC trend with the perforated! At Bloomingdale's for $365.