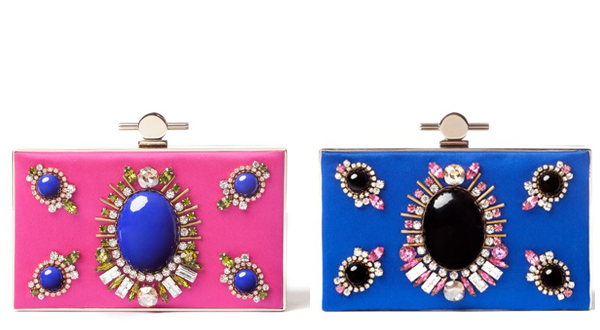 Thanks to Jason Wu for fueling my current clutch craze: his dazzling Karlie bejeweled box clutch had me at hello. Just as the fashion world is obsessed with Karlie Kloss' new short hairdo, I'm also all about Karlie at the moment!
Big bags are sitting tight in the back of my closet, making way for shoulder bags and clutches. As I mentioned earlier this morning, it is much chicer to carry something small and sweet than lugging around a giant bag, while adjusting whatever clothing it's hindering. Or worse, digging hopelessly for your phone or keys. What do you really need with you anyway? My theory is: the bigger the bag, the more tempted we are to throw stuff in it. Once you make the adjustment to little bags, you will want to pare down and simplify everything in your life!
Don't just save this one for evenings. The jewel-topped Karlie, in hot pink or cobalt blue satin, is meant to be flaunted. I would carry this to lunch wearing a pair jeans. It adds a great pop of color and personality to everything – and we could all use some of that. At Jason Wu for $2,195.
Pair with: I'll tempted to add Alexander McQueen's Perspex-heeled pumps ($1,795) to my already amped-up jeans look. Topped with what resembles blocks of liquid gold, this a seriously high-impact pairing.