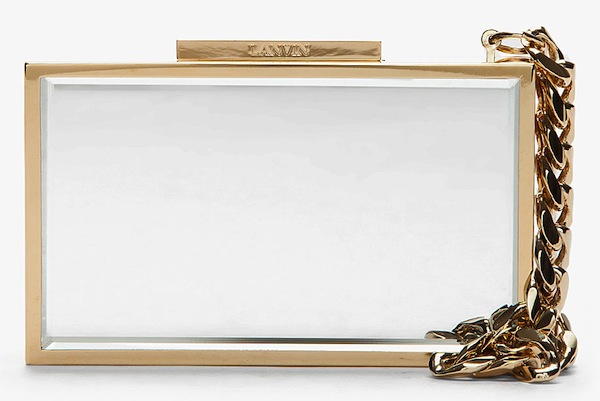 Lately, I've found myself in the mood for one impractical bag after another. Or maybe it's just that there are suddenly so many sick bags out there that breach all reason and good sense. Like this Lanvin: this brass-metal box-clutch is faced with mirrors!
I love it when a clutch comes with an internal mirror (a la Givenchy's similarly dysfunctional temptation). This one takes the concept of vanity to a new level, and I can't help but love it.
Here's the deal: you will fit nothing in it (save a bullet of lipstick, so you actually get to put this clutch to use), spend a fortune, and be forced to treat it with a highly delicate touch. But you will also feel hot as hell with this chain-strap dangling off your wrist, and each time you gaze into that handy mirror, it will be confirmed just how happy it makes you. And that, snobs, is the beauty of a decadent clutch. On Ssense for $2,290.
Pair with: Only something as glamorous as Tom Ford's lipstick will do inside this box. Cherry Lush is a classic va-va-voom red, while Black Orchid delivers dangerous deep-violet appeal. At Neiman Marcus for $48 each.