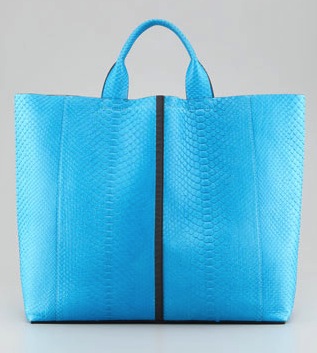 The Year of the Snake begins on Feb 10th this year! It's all about focus, progress, and attention to detail.  I'm a Rooster, so Snakes are my best friends according to the Chinese Zodiac (…and Cows, too!). So it's no wonder I love snake and python bags. I think a new snakeskin bag will bring me luck in the New Year – don't you agree? Embrace the snake and grab one for yourself. Whether it's a high-end investment or hot frugal find doesn't matter. Just as long as it slithers its way into your heart! Jump to see more scaly beauties.
Reed Krakoff Exotic Python Track Tote Bag: Vivid blue glamour to keep you electrified through the year. At Neiman Marcus for $3,990.
Kenneth Cole Handle It Over Minibag: Sexy and slinky, Kenneth Cole's snakeskin bag will ensure you have a very steamy year! Best bang for your buck, too! At Kenneth Cole for $228.